Main Highlights:
Twitter Spaces are now open to anyone who uses the network, and they are free to use. The Spaces team said on Thursday that Android and iOS smartphone users will now be able to build their chat room, which will be accessible to other users.
Inspired by the Clubhouse and allows users to build public and private audio chat rooms on the microblogging site, the technology was initially offered for use by a limited number of people last year and has now been made available to all users according to the microblogging site.
Previously, Spaces could only be hosted by persons who had more than 600 followers on the social media network. People who want to participate in Twitter debates will now be able to do so regardless of the number of followers.
In a tweet on October 21, the Spaces team notified the upgrade to users. Spaces' updated version is currently available for download.
Twitter Spaces are now open to anyone who uses the network, and they are free to use. On Thursday, the Spaces team revealed that users of Android and iOS devices would now be able to create their chat room. The Clubhouse-inspired technology, which allows users to create public and private audio chat rooms on the microblogging site, was initially introduced for usage by a restricted number of people last year and has expanded to include all users.
An increasingly large number of people are becoming aware of it. It was formerly only possible for individuals with more than 600 followers on the network to host Spaces. Participants in Twitter debates will now be able to participate regardless of how many followers they have.
New Version of Twitter Spaces
The Spaces team announced the upgrade on Twitter on October 21. The new version of Spaces is available now. Creating a Space can be begun by holding down the Compose button on their timeline and then picking the Cluster of dots icon from the drop-down menu. By tapping Start your Space, you will be able to activate the microphone. Up to 11 speakers can be accommodated in the same space at the same time.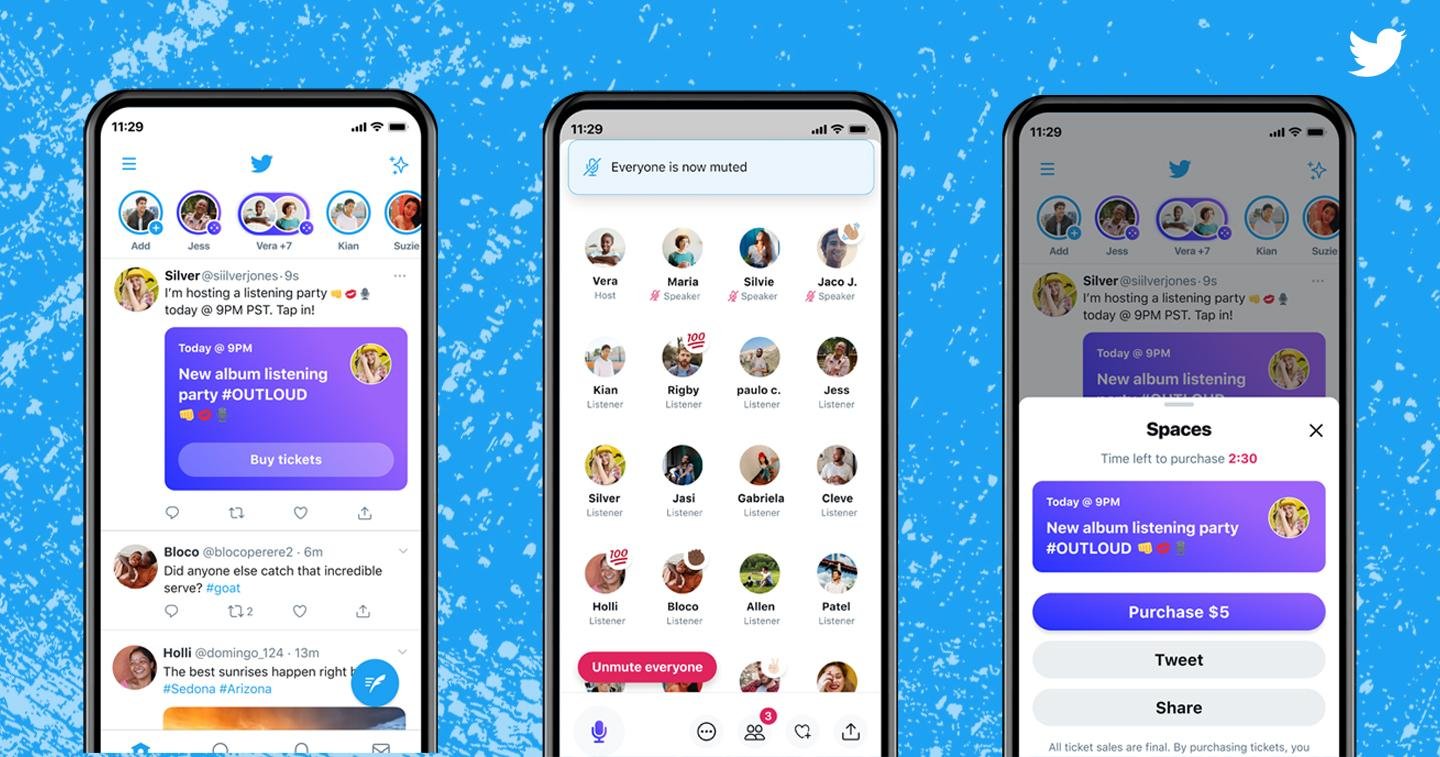 When someone you follow begins or ends a conversation in a Space, a Purple bubble will display at the top of your timeline for the duration of the conversation on Twitter for iOS and Android. When you become a listener in a Space, you can respond with emojis, view any pinned Tweets, follow along with captions, tweet, or directly contact the Space's host, or request to speak.
When Twitter launched Spaces in late 2020, it did so when audio-based social networking was gaining significant traction around the world. In contrast, its testing was initially restricted to iOS users only, but it was broadened to include Android users starting in March of this year. The company has since been hard at work introducing new capabilities to Spaces comparable to those available in the Clubhouse application.
In May of this year, Twitter launched Spaces on the Web. In September, the company enhanced Spaces to include recording and playback capabilities, allowing users to listen to audio conversations after they occur. However, several functions are currently limited to the Spaces mobile apps, but Twitter is constantly striving to expand the Web app's capabilities.
Twitter introduces Two-Factor Authentication:
A few weeks back, the microblogging site Twitter announced that users can utilize security keys as their only method of two-factor authentication (2FA). It is one of the "most effective" approaches to keeping their accounts secure. 2FA in any form is beneficial and recommended, according to Twitter, though physical security keys are the most effective. These are little gadgets that serve as house keys.
Third-party keys can be used to allow this approach on PCs. The keys provide the best protection for a Twitter account since they contain built-in safeguards that ensure that even if a key is used on a phishing site, the information given cannot be used to access the account. The keys employ the FIDO and WebAuthn security standards to shift the burden of phishing protection from a human to a physical device. The keys can help distinguish between legitimate and malicious websites and prevent phishing efforts that SMS or verification codes cannot.