Main Highlights:
The DOJ sued Uber over its waiting time fee policy, saying it discriminated against disabled riders.

According to the agency, as part of a two-year deal, Uber would remove wait time costs for certified handicapped customers and pay $1,738,500 to more than 1,000 riders who complained about the charges, as well as $500,000 to anyone impacted by the practise.

In the future, the company has committed to forgo fees for handicapped users.

More than 1,000 individuals had complained about the costs, which frequently apply if it takes more than two minutes to get into the car.

Users can now request a wait time fee refund or waiver through the

company's website

.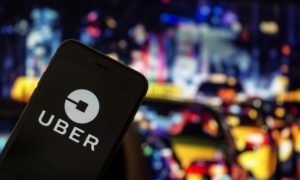 The Department of Justice announced on Monday that Uber Technologies Inc. will pay more than $2 million and waive wait time fees for handicapped passengers in order to settle US accusations that the ride-hailing business violated the Americans with Disabilities Act.
According to Uber's waiting time fee policy, if you take more than two minutes to begin your journey after your car arrives, the firm will charge you every minute the driver must wait. According to Uber's policy support page, the pricing changes depending on location.
In November 2021, the DOJ sued Uber over the policy, claiming that it discriminated against handicapped persons who would require more time to get into a car.
Disabled customers who were charged for the time it took them to enter ride-sharing cars may be entitled to double the costs, and Uber will pay more than $2 million in additional restitution.
Uber Technologies Inc. has agreed to pay a multimillion-dollar settlement to satisfy federal accusations that it discriminated against disabled clients by charging them wait-time fees for the extra time it took them to enter a car.
The agreement resolves a complaint filed by the Justice Department in November, accusing Uber of breaching the Americans with Disabilities Act, or ADA. Uber charges a waiting fee two minutes after a driver arrives at a pickup location.
According to the lawsuit, Uber charged a fee even when it was obvious that riders required more time due to a handicap.
As part of the deal announced Monday with the Department of Justice, the San Francisco-based firm agreed to waive wait time costs for users with impairments and refund consumers who were previously denied the waiver option.
The Department of Justice said in a news release that the corporation will compensate over 65,000 customers who were charged "discriminatory fees" because of their disability. The settlement is the result of a lawsuit launched by the federal government against Uber, alleging that the company's "wait time" standards were discriminatory towards customers with disabilities.
The Government of Justice also stated that $500,000 will be awarded to "additional injured persons identified by the department." It did not say how many persons had been identified.
On Tuesday, July 19, Uber did not immediately reply to McClatchy News' request for comment.
However, the corporation expressed satisfaction with the accord in a statement to The Hill. "It has long been our policy to refund wait time fees for riders with disabilities who alerted us that they had been charged, and prior to this matter being filed, we made changes so that any rider who shares that they have a disability would have wait time fees waived automatically," the company said, according to The Hill.
About Uber 
Uber Technologies, Inc. (Uber) is an American mobility as a service provider that allows consumers to hire a car and driver to transport them in a taxi-like manner. It is headquartered in San Francisco and plans to operate in about 72 countries and 10,500 cities by 2021.
Its services include ride-hailing, food delivery (Uber Eats and Postmates), package delivery, couriers, freight transportation, electric bicycle and motorised scooter rentals through a relationship with Lime, and Thames Clipper river bus transit in collaboration with local operators.
Uber does not own any vehicles and instead earns a commission for each booking. Fares are offered to the client in advance and change depending on a dynamic pricing methodology based on local availability and demand at the time of booking.
Uber has 118 million monthly active users globally in the fourth quarter of 2021, generating an average of 19 million rides per day. Uber has a 71 percent market share in ride-sharing and a 27 percent market share in food delivery in the United States as of January 2022.
Uber has become so well-known in the sharing economy that the commoditization of service sectors via the use of computer platforms has been dubbed "uberisation," and other firms have marketed their products as "Uber for X." Except for 2018, when it abandoned markets in Russia, China, and Southeast Asia in return for interests in competing firms, Uber has lost hundreds of millions or billions of dollars every year since 2014.
Uber, like other comparable companies, has been chastised for treating its drivers as gig workers and independent contractors, disrupting taxicab operations, and increasing traffic congestion. The corporation has been chastised for a variety of unethical tactics, many of which were disclosed via a huge document leak in July 2022, as well as for failing to comply with local rules. Uber's legality has been called into doubt, and the corporation has been outlawed in various nations.