Introduction:
Venmo app is a peer-to-peer (P2P) payment app available on iPhones and Android phones that allows for the quick and easy exchange of money directly between individuals. It is the payment app of choice for sending money to friends and family. It's widely used, you can send money by whichever payment method you want, and recipients get funds instantly.
There's a feed that shows payments between users, and on each payment, you can include a note, emojis, or animated stickers. It also offers privacy settings. If you don't want your payments to be seen by everyone, you can make them visible to only your friends or to just you and the recipient.
Pros of Venmo App:
The app has a

user-friendly

interface of the app

The app is frequently updated

Sending and receiving cash is effortless

Can be used on some sites and apps that accept PayPal

Free to send money from a bank account or debit card

Low fee for credit card payments

Can pay for purchases at select businesses

Offers a debit card and a credit card

Adds a social element to sending and receiving money



Cons of Venmo App:
Default privacy setting shares your payment history with the world

Can't pay people via website

No international payments

Payments are public by default
What is the Venmo App?
Venmo app is a mobile app (owned by PayPal) that lets people pay other people and businesses instantly, with no cash involved. It is a payments app allowing you to instantly send and receive money. You can send money from your debit card, credit card, bank account, or your balance. When you receive money, it adds to your balance. You can keep it there or transfer it to your bank account. 
It also lets you split bills and other expenses with multiple people. You and your roommate could use the app to pay your internet bill, for instance, or you and a few friends could use it to split the check at a restaurant.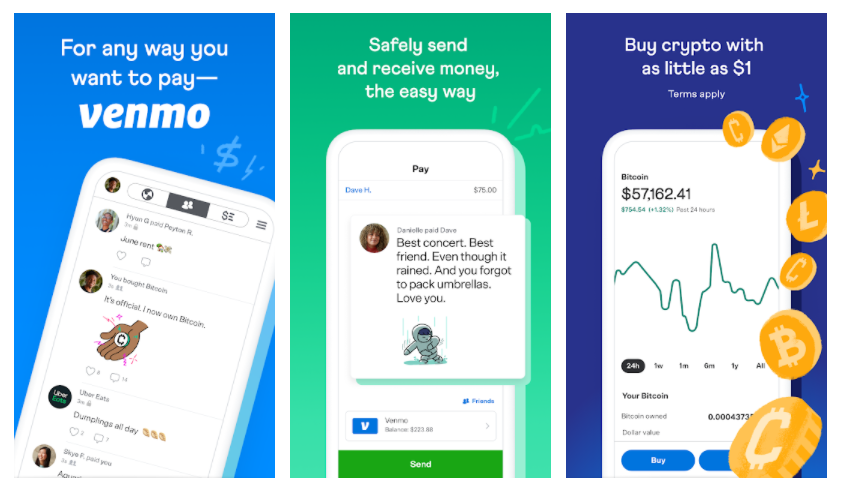 Features of the app: 
Quick and convenient payments:

You can download it and start sending or receiving money in minutes.

Pay for purchases:

It is a checkout option with several apps and websites, including Uber, GrubHub, Hulu, Poshmark, and Foot Locker, among others. 

Offers a debit card and a credit card:

Frequent users may be interested in one of its payment cards. 

Adds a social element to payments:

It's a payments app that includes popular features from social networks, including likes, comments, and messages attached to each payment.
Features that unveil when you sign up:

Send and receive money

Get rewarded with the Venmo Visa® Credit Card

Shop with the Venmo Debit Card

Pay in stores

Pay in apps & online

Manage your money
FAQ:
iOS and Android platforms.
The app is free to use. 
Is the payment secured for in-app purchases?
Yes, the payment is secure for in-app purchases.

What permissions do you need to allow for the app to function? 
The app requires permission to access media files, Wi-Fi connection, and storage on your device.
Why should you use the app?
The app is recommended by experts around the world. The convenience factor is a big reason that so many people use it to move funds. It is a go-to app when someone in the group pays for something (such as a dinner meal) and everyone can simply "Venmo" the money to this person.
It's free, fast, and simple — people don't want to deal with cash and coins. It offers debit cards, credit cards, and bank account payments. Last but not least, it has a massive user base, so many of your contacts may already be using it. Considering how widely used the app is, it's a payments app worth having on your smartphone.
User Reviews: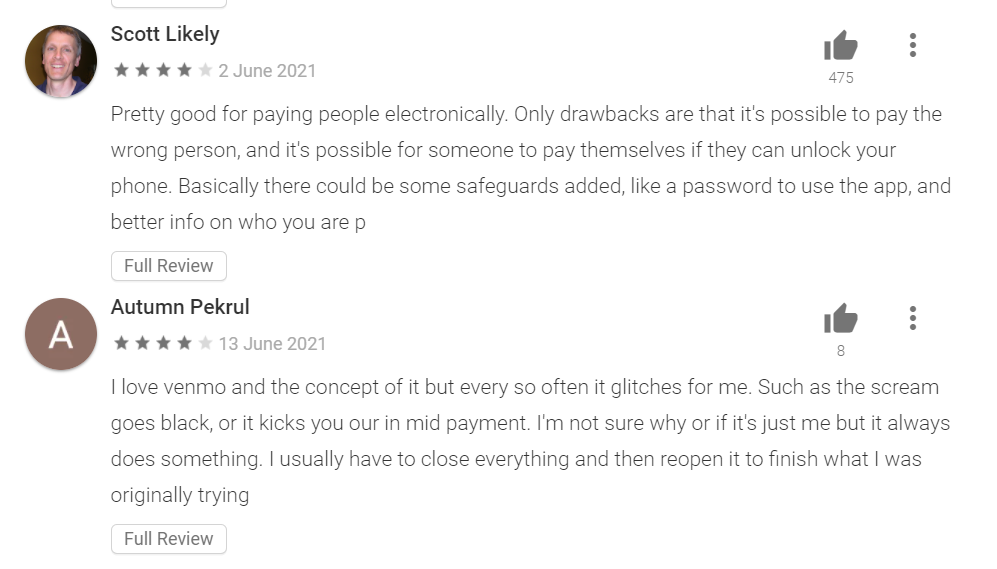 Download the app here:
Like our Venmo App Review? Check out more Mobile App Reviews or Submit your own Mobile App Reviews.