What is VSCO App?
VSCO, like Instagram, is a popular picture editing and sharing app. Users may import or shoot photographs and videos, which can then be edited using a range of built-in tools. Presets enable users to rapidly change the appearance and feel of their media.
Students must be 13 or older to create a VSCO account. They may sign up by logging in with their Facebook or Google accounts, or by entering their phone number or email address. The app will need access to the camera and contacts in order to establish a follower list.
A subscription membership includes more tools and presets, as well as the ability to modify video footage and create your own presets known as "recipes." VSCO, like any other social media platform, allows students to produce and consume content.
They may peruse their feed, which displays picture creations from individuals they follow, but what distinguishes VSCO is the lack of likes and comments (and the associated pressures those features create).
While users may "favourite" and save photographs they like, viewers cannot see how many likes a post has gotten, nor can they leave a remark. The free edition allows you to alter photos with filters, text, and tools. The premium edition has more advanced filters and features.
VSCO compositions may also be shared from within the app to an Instagram feed, Instagram stories, or Snapchat, or to other social media sites through a text link.
Highlights of VSCO App
VSCO provides a variety of choices for editing photos.
There is no competition among users as VSCO users can only view pictures but can't like or comment on them.
The app has its Grid community where the users can share their photos.
Apart from social media, one can view others' posts unless they follow each other.
Share photos to the VSCO Grid community
Share photos to Instagram, Twitter, Facebook, Weibo, and save to your Camera Roll
There are a number of presets to edit photos with
You can achieve really professional-looking results
View photos others have posted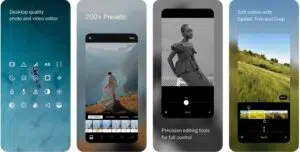 VSCO Key features
You can sign up for VSCO by connecting to Google or Facebook. Before, you could use VSCO directly after installation with no procedure for sign up. But now, to authenticate the user, VSCO asks for login details. As an alternative, you can also use the phone number or email address to get logged in.
For paid subscription, you need to pay $19.99 per year.
With the paid version of VSCO, you can freely use hundreds of filters. You can also go through editing tutorials. and get an option to 'Grant Access' to camera roll and contacts right after choosing either a free trial or premium version of VSCO.
Apart from importing photos from the camera roll, one can capture photos using VSCO Cam. While turning on the camera, you get access to a few settings that allow you to turn on the grid and use flash, focus, and white balance. When you get ready for a click after setting all these features, you can tap the camera symbol at the bottom to capture a photo.
The photos you took from VSCO Cam are stored in the VSCO Gallery once you save them. You get the option of 'Delete,' 'Share' after selecting specific or multiple pictures from the gallery. You can further edit those pictures if you tap on the 'Screwdriver' option.
Smartphone Interface of VSCO
In the profile section of VSCO, you can add a profile picture. For profile images, you need to load images from VSCO Gallery as there is no option for selfies. There is an additional 'Discover' section in VSCO. By clicking on 'Discover,' you can browse popular photos provided by the VSCO team. The search on 'Discover' is displayed based on username and search tags.
In the free version of VSCO, you get a maximum of ten filter options and selective edits. B1 and M5 are the types of names given to filters. If you want to explore more filters and editing toolkits, you need to get a paid subscription for the application. During photo editing, you can use a slider to adjust the filters and their strength.
You can warp up a photo by cropping it to aspect ratios. You are given a geometric angle option where you can adjust your picture in '3D form'. The user can easily slide the picture while using the rotation feature to adjust the level of the photo.
VSCO App Reviews

Why should you install VSCO?
VSCO is a simple to use smartphone application with a rising user base. The software is viable because it allows the user to easily experience professional photography and editing. VSCO offers a plethora of filters and picture editing capabilities, depending on whether you use the free trial or the subscription edition.
Compared to other social media apps, VSCO gives users access to more advanced photo editing tools and filters. This is attractive to users who want to enhance their pictures, and use the app's features to express their visual creativity.
Frequently Asked Question
Is VSCO safer than Instagram?
Can you direct message on VSCO? Yes. But only with people who are mutually following each other. This is different and safer than Instagram, which allows anyone to DM anyone else, even if they have a private account.
How is VSCO different from Instagram?
The major difference between Instagram and VSCO is that there are no numbers on VSCO to track the interaction of the users' pictures. Users of the app can favorite, repost and share pictures between people that they follow but the activity, except the sharing of posts, can only be seen by the original publisher.
Is VSCO editing app safe?
Parents should set rules around VSCO and other apps to ensure safety and abiding by the rules. VSCO's terms of service do not allow users under 13, so the app should be blocked for anybody under that age by parental control software. Disable in-app purchases without a passcode at the operating system level.
VSCO does not offer the option to have a private profile or account at this time. Any media that you post to your VSCO account is public for anyone to see, whether on the VSCO app or on VSCO's website, vsco.co.
Can you see who visits VSCO?
You can also find out who is following you and even more. However, VSCO was primarily built to edit photos over social interaction. You can't see who visits your profile, nor will others know if you check theirs. That's because the app doesn't track user activity at all.
When you block someone on VSCO Can they still see your pictures?
Your VSCO profile is public. While someone may not be able to interact with you or your content after you have blocked them, blocking doesn't prevent them from seeing your VSCO Profile or images.
VSCO charges $20 a year for a membership, which also gives subscribers access to additional filters and borders. The team wouldn't say whether it's committed to this price, especially now that it's launching Montage.