Waymo is an autonomous rideshare startup. It has announced an additional $2.5 billion investment round of funding. It was launched in 2009 by Google's parent company Alphabet, Inc., as a self-driving car project. In 2016, the Google project was officially renamed Waymo, derived from "a new way forward in mobility." Since then, it has tested its various self-driving vehicles in several states. Furthermore, it has been charging driverless rides for people in Chandler, Arizona, since 2019, apart from a slight halt during the COVID-19 pandemic.
Most recently, it has been gearing up for paid rides in San Francisco, pending permit approval from both the California DMV, as well as the California Public Utilities Commission (CPUC). In its application, it has logged over 83,000 autonomous miles in the San Francisco area, although its total autonomous miles logged are much higher. 
With the funding announcement, it appears positioned to begin charging for rides (and actually gather some income) pending the application approvals in California. Waymo has become the latest autonomous driving startup to take a spin in silicon valley's money booth, with a fresh round of funding totaling $2.5 billion. As reported by Reuters, the investment was led by Alphabet, in addition to other existing shareholders, and sits as the second round outside funding for the firm. This latest influx of cash will give it nearly $6 billion in capital for its war chest, just a day after its rival Cruise announced a $5 billion dollar line of credit from GM.
Waymo has seen delays due to the COVID-19 pandemic and permits, but overall, the biggest hurdle is achieving safe and dependable full-self driving in its vehicles. This latest funding shows that investors still have confidence in the potential of autonomous rideshares, but genuine profitability remains miles down the road for companies like Waymo. With the support of a conglomerate like Alphabet, however, Waymo can continue to improve its autonomous technology while it works through the red tape in California and beyond.
According to investor website PitchBook, the company is valued at just over $30 billion, though that figure does not include this most recent funding round. For years, the company has relied almost exclusively on the largesse of its corporate parent, Alphabet. Then, in March 2020, it announced its first external funding round of $2.5 billion, a figure that grew to $3.2 billion a few months later with the addition of some investors.
The same groups that participated in Waymo's first external investment are back for this second round, including Waymo's parent company Alphabet, Andreessen Horowitz, AutoNation, Canada Pension Plan Investment Board, Mubadala Investment Company, Perry Creek Capital, Fidelity Management and Research Company, Magna International, Silver Lake, Temasek, and funds and accounts advised by T. Rowe Price Associates. The one new participant was Tiger Global.
Waymo has become the latest autonomous driving startup
Waymo says the money will help further its mission to bring its autonomous ride-hailing service to more markets. Currently, the company's robotaxis are only available to the public in Arizona in an approximately 100-square-mile service area that includes the towns Chandler, Gilbert, Mesa, and Tempe. Waymo also allows riders to take trips in its fully driverless vehicles without a safety driver in the front seat — the service area for those vehicles is only about 50 square miles.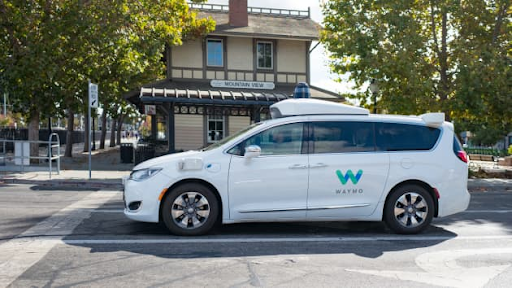 The news follows a string of departures from the company, most notably CEO John Krafcik, who oversaw the transformation of Google's self-driving car division from "Project Chauffeur" to its own standalone company in 2016. He was replaced by Tekedra Mawakana, Waymo's chief operating officer, and Dmitri Dolgov, the company's chief technology officer, who is now serving as co-CEOs of the company.
"Experience has taught us so much, and we agree with those experts who say there's no greater challenge in artificial intelligence than building and deploying fully autonomous technology at scale," Dolgov and Mawakana said in a statement. "But we love a challenge and – thanks to the unmatched talent of our team – the Waymo Driver is already serving thousands of Waymo One riders as they get to work, shop for groceries, bring their kids to school, or just experience the joy of a ride with no human behind the wheel."
Unlike many of its competitors, Waymo is simultaneously developing its system for multiple applications, including robo-taxis, autonomous long-haul semis and urban delivery vehicles, and even personal autonomous vehicles. Dolgov, the company's long-time CTO and a member of the original Google Self-Driving Car team in 2009, bristles at any suggestion from rivals that it's losing its lead in the space. Waymo plans to use the additional funding, led by parent company Alphabet Inc., to hire more staff and advance its self-driving technology toward more paid rides.