Main Highlights:
People want customization
Data powers better experiences
Continuous improvement strategy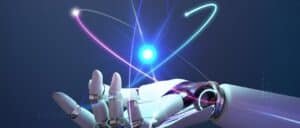 Everything is based on experience. From what we buy to where we work, everyone wants a more intuitive, customised experience in everything we do. The finest user experiences are seamless, with fast recommendations that provide us with what we want without needing us to spend significant time giving our preferences. Consider any light-touch, data-rich experience that guides you to your destination, provides you with something you didn't realise you needed, or connects you to the answer you were seeking for.
Though everyone has had the experience, not everyone understands what goes on behind the scenes to make it possible: artificial intelligence (AI).
Artificial intelligence is the oxygen that keeps those remarkable user experiences alive.
Why am I comparing AI to oxygen? Because the AI is undetectable in all of those cases — and that's how you know it's functioning. Every day, AI transforms data based on user choices into engaging experiences.
Every business exists in an experience market. When it comes to talent, everyone is vying to provide an experience that attracts and keeps the best-fit applicants. Savvy businesses recognise that merging AI and people is the winning combo for creating unforgettable experiences.
People demand customization.
We used to think of personalisation as a "nice to have" feature, something as easy as include the customer's name in a marketing email. However, as the epidemic hastened digital transformation, so have user expectations.
When faced with increased digital interactions, customers confronted several challenges, including difficult-to-navigate websites, inadequate contact pages, and irritating support systems. Consumers've made it plain that they don't want a cumbersome, one-size-fits-all experience, but rather relevant suggestions, personalised interactions, and bespoke messaging that reflects what they're interested in or important to them.
According to McKinsey's "Next in Personalization 2021" research, 7 out of 10 customers want organisations to provide tailored experiences, and 76% are frustrated when those interactions fail to deliver. Companies who get personalisation right find that three out of every four consumers make a purchase – the same proportion that is likely to repurchase items or services and promote the company to others.
While personalisation increases sales by 10 to 15% on average, data-driven organisations reported revenue growth of up to 25%.
Companies that outperformed others had numerous personalization-focused characteristics, such as agile operational models and AI-driven decisioning.
It's all about giving appropriate job suggestions and information based on a candidate's preferences and history, including skills and geographic area, when it comes to talent acquisition. The sooner firms can provide employment possibilities that match each job seeker's qualifications, the more likely they are to apply. It helps individuals to grow their skills and uncover new possibilities and career routes for internal mobility inside their firm for talent management.
Data powers better experiences
Companies already have the fundamental component required to create hyper-personalized experiences: data. According to Phenom's sixth annual State of Candidate Experience study, they're just not using it to its full potential.
This yearly benchmark research examines the applicant experience at Fortune 500 businesses in order to assess each organization's job site experience and usage of AI in recruiting.
The great majority of Fortune 500 employment sites (88%) did not offer job suggestions based on browsing history or an established profile. In other words, virtually all job seekers who provided their background information freely and created accounts on a company's employment site experienced no increase in their experience.
Furthermore, just 10% of businesses had an easy job search and application procedure, and 87% did not employ a recruiting chatbot on their career site to aid self-service – despite the fact that most consumers prefer to handle problems on their own.
The bottom line is that users entrust businesses with data about their habits and preferences, but firms fail to behave as effective stewards of that information, and they miss out on critical possibilities to create differentiated tailored experiences.
Continuous improvement strategy
Organizations may obtain better feedback faster and alter their candidate experience in real time by injecting intelligence across talent data sources rather of relying exclusively on periodic, quantitative surveys with inflexible questions. This continual improvement method is only one of many ways businesses can utilise experience-driven AI to set themselves apart from the competition.
It is now time for businesses to apply the benefits of AI to the candidate experience, building on the lessons learnt from successful tailored consumer experiences.
According to PwC's annual AI study, over 1,000 leaders have raised their companies' investments in AI. Organizations who have previously used AI highlighted enhanced decision-making, product innovation, cost savings, and higher productivity as the most significant benefits of their investment.
Automation and personalisation via AI provide applicants with the same experience and correspond with their high expectations stemming from their daily experiences with online shopping and streaming companies. Automation and AI may also have a major impact on recruiting teams by automating monotonous operations and freeing them up to focus on areas that AI is not strong at.
Businesses will thrive or fail based on the experiences they provide to their main stakeholders, which include applicants, workers, recruiters, and hiring managers. Job seekers remember their job search and hiring experiences, and it may make or break their choice to apply and join a firm. AI drives the personalisation necessary to provide a more seamless and enjoyable experience.