Introduction:
Wickr Me app allows you to connect with your friends individually or in groups. Wickr Me supports fully encrypted voice calling as well as voice memos.  With new features, it now provides end-to-end secure file, image, and video sharing. Take full control of who has access to your content and how long it is available.
Pros of Wickr Me app:
You have control over your messages

Messages are end to end encrypted 
Cons of Wickr Me app:
Users have complaints about disappearing messaging features.
What is the Wickr Me app?
Wickr Me provides a secure communication platform that individuals, teams, and corporations across industries, sizes, and scales rely on to manage their most important communications. It is an ad-free flagship app and is the most trusted and secure messenger platform, powered by the world's most advanced multi-layered encryption and ephemerality.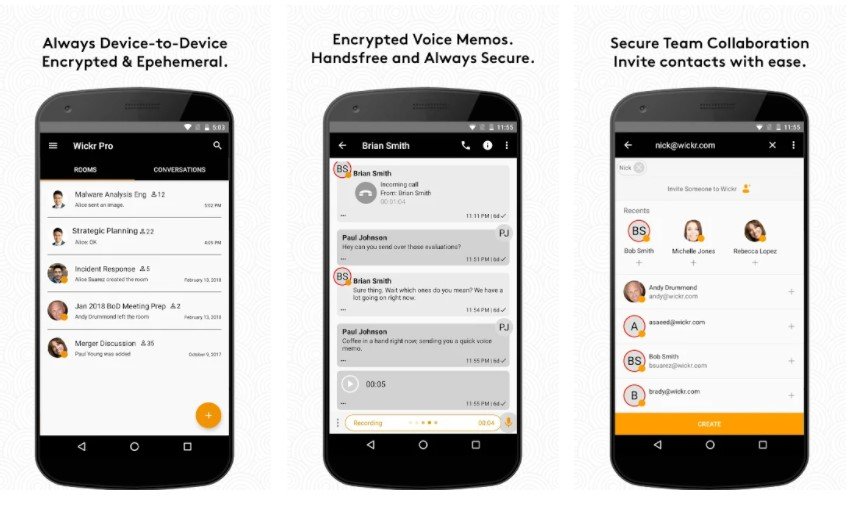 Features of  Wickr me app :
Configurable Expiration Timer –

Set the expiration time for all of your messaging content.

Device-to-device encryption – e

ach message, file, and call (every 512 packets) is encrypted with a unique key, making it nearly impossible to crack.

The Wickr Messaging protocol provides strong end-to-end encryption as well as perfect forward and backward secrecy for user data.
Features that unveil when you sign up:
using advanced vetted end-to-end encryption, each message is encrypted with a new key. Wickr has no access to your messages or contact list.

 Registration on Wickr Me does not require a phone number or an email address. Your address book is kept private and is not kept on our servers.

 Wickr does not save any metadata relating to your communications.

Wickr's code, policies, and security practices have been validated by the industry's most prestigious security research teams.

Communicate privately in groups of up to ten users.
FAQ: 
iOS and Android platforms 
Yes, The app is free to use. 
Is the payment secured for in-app purchases?
nil
What permissions do you need to allow for the app to function?
 The app requires permission to access storage, location, photos/media/files and wifi connection.
Why should you use the app?
For one thing, if you don't have privacy, you'll be more cautious with your words. If you believe you have control over who reads your messages, you will feel freer to express yourself.
User Reviews:
Download the app here:
Like our Wickr Me App Review? Check out more Mobile App Reviews or Submit your own Mobile App Reviews.