Not long ago, almost all travel transactions were conducted through traditional travel agencies. However, travel money is rapidly being spent digitally, particularly on smartphones. According to the most recent eMarketer data, mobile accounts for 63% of digital travel marketing expenditure, and that percentage is constantly increasing.
Travel appears to be making its long-awaited return to pre-pandemic levels in 2022. Some even believe that this year's summer season will be the biggest travel season in history. Examine some of the most important travel marketing trends so you may plan your marketing strategy to attract new consumers and, eventually, increase income.
The competitive field of mobile applications is huge, and the amount of new apps that come into existence every day is unstoppable. As a result, in order to survive and grow in this competition, developers and app marketing organisations must implement the finest possible app marketing techniques.
However, it is evident that skilled marketers are troubled with concerns such as "how can I build a marketing plan that truly works flawlessly?" As a result, we decided to compile a list of the most efficient app marketing tactics recommended by IT leaders even in 2022.
If you believe this topic will be beneficial to you, please stick with us until the end of this blog.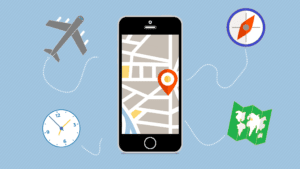 Search Engine Optimization (SEO) and App Store Optimization (ASO)
As previously stated, big app shops such as the Google Play Store and the Apple App Store offer millions of apps. So, in such a large contest, how can you increase the exposure of your efforts? ASO and SEO, for example, may be quite beneficial in this regard. But first, it's critical to distinguish between the two target marketing techniques.
An in-app marketing approach, as the name implies, is used to promote apps through other apps. In this app marketing tutorial, we'll look at how in-app marketing works. There are several methods to use this one of the greatest app marketing tactics. You may work with another app developer to have your app displayed as an advertisement in their app. Alternatively, you may employ an affiliate marketing firm to display your applications' adverts on the apps of their clients. Affiliate marketing is really popular these days, and we shall go over it in further detail later in this blog.
In-app incentives
Do you want to know how to successfully sell your app using in-app rewards? There are simple yet efficient ways to accomplish this. Many applications in many categories, including as video streaming, commerce, gaming, and so on, reward users for installing or trying third-party apps. These incentives might include in-app money, features, free trials, discounts, and other items.
Affiliate promotion
Affiliate marketing is a method of increasing installation or conversion rates by enlisting the assistance of third-party businesses. These agencies are compensated for each installation or visitor that they bring. Contract terms may differ, but the ultimate objective is to expand the app and attract as many instals as possible. The majority of these marketing companies either own their own platforms via which they advertise the app or work with other platform owners and pay them commissions for promotions.
Personalized advertisements
Another popular mobile app marketing method is the use of artificial intelligence (AI) and machine learning (ML). Both methods are used to discover the proper target audience for app advertisements.
Ads are presented based on the individual's browsing activity to discover the proper audience or future users. The data obtained by the search patterns of users is utilised to automatically adjust the selection of advertisements to display.
Promotions on social media
Platforms such as Facebook, Instagram, and YouTube are regarded as the top marketing applications for any product or business. These major social media sites provide a plethora of app marketing capabilities for apps. We can comprehend them independently in order to fully comprehend the advantages of social media marketing tactics. –
Marketing using influencers – Now, mobile marketing agencies prefer to work with developers that have a large number of followers and a large amount of exposure to advertise their apps. Influencers promote applications through special posts, skits, paid advertising, blogs, reviews, and so on as part of these collaborations.
Paid social media promotions – Among other lead generation tactics, marketing firms establish and publish on specific social media pages for applications. However, in order to develop quickly, several social media platforms, such as Facebook or Instagram, provide the option of running paid advertisements. These sponsored advertisements contribute to increasing the visibility of published information. This advertising may also be tailored to meet specific needs.
Organic outreach – One of the top target marketing tactics used by marketing firms to grow their adverts or app-related content without spending anything. This expansion is possible due to a combination of variables.
These elements might include hashtags, visuals, video advertisements, location, posting timing, and more.
Marketing across several channels
Omnichannel marketing to target diverse user categories is one of the greatest target marketing tactics. As the name implies, omnichannel marketing encompasses numerous marketing channels. Emails, newsletters, push alerts, social media commercials, TV ads, podcasts, and so on are examples of these channels.
Keeping up with the evolution of algorithms
ASO and SEO algorithms are changed on a regular basis. As a result, it is critical to keep applications and material used to advertise apps on web pages up to date and optimised. Algorithm upgrades might be based on new security features, changing devices, new technologies, and so on.
As a result, the better optimised your digital material is, the more likely you are to find it among the top search results.
Positive feedback for promotion
Reviews are critical in influencing potential customers to install your software. Good evaluations can assist to develop trust in the minds of users. These evaluations can address their worries about the features consumers want, the app's security requirements, and more. Furthermore, positive ratings help the app rank higher.
Review websites featuring you
Submitting your app to review websites is another great app promotion method in 2022. These websites scan through apps, features, reviews, ratings, and so on and post them on their websites and social media accounts.
These evaluations are sometimes compensated, and other times websites highlight applications for their readers. Having your app featured on such platforms might bring in a lot of traffic.
Key Takeaways
To advertise your apps, use social media-based app marketing solutions. For best results, work with influencers, produce video commercials, and upload on a frequent basis.
Observing what works for rivals might assist you in determining the best app marketing strategy.
Focus on improving your app on a regular basis to increase the likelihood of it being highlighted by app stores.
Smartly combine ASO and SEO tactics to increase your app's exposure across different countries and platforms.
If you're new to the business, submitting your app for third-party evaluations might be a terrific way to get visitors started.