Main Highlights:
It is anticipated that there will be 1.73 billion AR users globally by 2024.
AR in the retail industry is predicted to rise from $2.39 billion in 2018 to $24.5 billion by 2025 in terms of revenue.
According to a recent survey, 60% of consumers would be willing to test AR when shopping online if it meant being able to view how things would appear in their house before purchasing.
Augmented reality (AR) is a technology that allows the actual world and virtual items to be mixed using the device's camera and screen. Before we begin, let's define "AR shopping" in a few terms. AR allows users to experience the most realistic demonstration of a virtual project conceivable. According to projections, by 2024, there will be over 1.7 billion mobile devices with AR capabilities. By the end of 2022, the number is likely to remain restricted to 1.1 billion mobile devices having AR.
Augmented Reality may be experienced on a variety of platforms, including smartphones and tablets, wearables, PCs and laptops, TVs, digital mirrors, linked devices such as glasses, head-mounted displays, lenses, and even AR fitting rooms. The distinction between Augmented Reality and Virtual Reality is that AR "augments" the real environment rather than replacing it.
In the case of portable devices, AR gathers information about the surrounding real-world environment using the device's camera, computer vision technologies, GPS, compass, and accelerometer and then overlays extra contextual information (in 2D or 3D) on top of that image.
AR benefits for retailers
Augmented Reality application in retail provides several options for organizations to boost consumer happiness while decreasing costs.
Increasing sales: AR technology allows customers to virtually check out things before purchasing them. Whether the customer purchases online or offline, AR reduces the customer journey and enhances retail conversions.
Reduced returns: AR assists clients in avoiding disappointment and selecting the best items for them. As a result, return rates for both online and brick-and-mortar retailers tend to fall.
Increasing consumer engagement: The virtual experience provided by augmented reality in retail piques customers' interest in items while delivering all of the supplementary product information they may require.
Creating social media content: The AR experience provides customers with something to talk about and share on social media. The subsequent social media comments and debates serve to raise product and brand awareness.
Data collection on client preferences: The information about the goods that customers choose to test through AR-enhanced purchasing reveals a lot about their interests, preferences, and buying behaviors.
Providing a contact-free experience: In a post-pandemic era, AR applications in retail help to remove contamination hazards and hygiene problems.
Reducing personnel costs: The AR app provides consumers with detailed information about the things they are interested in, reducing the need for real store clerks to a bare minimum.
Building customer loyalty: A better customer experience leads to increased customer loyalty and assists audiences in developing stronger ties with businesses.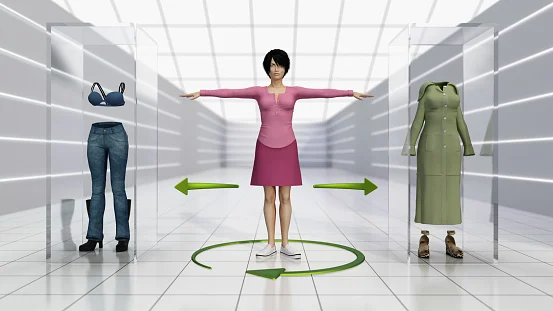 Crocs
Crocs' official trending fashion app features a large selection of footwear from which to order. The nicest element, though, is its VR and AR capabilities. Crocs allow you to try on footwear before purchasing it by utilizing both technologies. Using the camera, create a realistic duplicate of your favorite footwear and decide if you like it or not.
Features of this app
Huge range of Crocs products

VR and AR-supported virtual try-on

Find nearby stores with the store locator feature

Find good deals and the latest prices on products
Download this app
IKEA
This software takes advantage of the finest augmented reality shopping potential by providing a realistic representation of things that you may buy. IKEA, one of the greatest augmented reality applications known for its large selection of furniture, allows you to evaluate the appearance of your selected goods by merging real-world and AR aspects. Simply pan the camera in the direction you intend to place the furniture to receive a realistic representation of how the product will appear when it is delivered.
Features of this app
Millions of furniture items
Stylish designs that are appropriate for all sorts of houses and businesses
The ability to specify filters such as pricing, materials, and so on.
AR product renderings that are realistic
Download this app
Pepperfry
Pepperfry's excellent experience of choosing the correct furnishings for your house incorporates an AR function. You may scan the surroundings and test many things to locate the best product for your tastes. There is a wide variety of popular items. You may also take advantage of the occasional offers that are made available through this fantastic shopping app.
Features of this app
3D furniture depiction
A wide range of goods to choose from
Free product consultations are available.
There are several patterns and textures to choose from.
Download this app
Target
Target, like the previously mentioned app, offers AR features to its consumers. The software allows you to examine the measurements of your chosen goods as well as a realistic 3D depiction. You can photograph the setting in which you want to keep the new furniture. Then, add goods of your choosing to these photographs to see how they would seem in the context.
Features of this app
a large selection of Target items
Deals and discounts on occasion
Scan barcodes of things you see in aisles to receive complete information.
Purchase furniture after experimenting with AR.
Download this app
Lenskart
This augmented reality shopping software provides a new way to buy eyeglasses and sunglasses. Lenskart allows you to experience things before you buy them by utilizing AR and 3D technology. To do so, you must submit your own 3D reproduction by allowing the software to scan your face from various angles. Once completed, you will be able to choose any product and test it in the most realistic manner to determine whether or not the product is acceptable for you.
Features of this app
3D eyewear models
You must submit your 3D picture.
Built-in scanner to assist you in uploading your image
There are several fashionable and category-specific items.
Download this app
Houzz
This top interior design software makes the finest use of augmented reality for purchasing. The augmented reality online shopping software provides millions of interior design and product samples that you may examine before making a decision. You may also share your chosen designs with others to get their feedback. To test designs on your selected interior, simply pan the camera towards the desired place and pick the design.
Features of this app
Samples of realistic interior design
Product demos that are realistic
Simple-to-distribute designs
Millions of options and widespread community backing
Download this app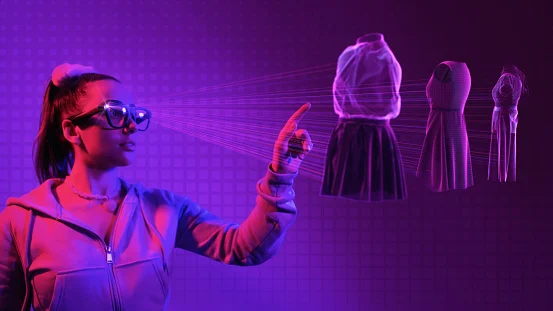 Food Network Kitchen
Food Network Kitchen, one of the greatest recipe apps, is a companion that can teach you cooking and recipes in a unique way. This excellent augmented reality software has a library of over 80,000 culinary recipes from many cultures to assist you in creating meals that everyone enjoys. This top culinary software also has an AR component that allows you to have some AR fun by decorating cupcakes, for example.
Features of this app
Installing it is completely free.
A massive recipe database
Supports a variety of cuisines
Experts' detailed culinary recipes
Download this app
Wanna Kicks
As the name implies, you may use this app to use augmented reality in fashion by examining shoes before purchasing them. These AR shoes come in a variety of colours and styles from which to pick. Each shoe comes with information about it, so you may learn about the history of the model you choose.
Features of this app
Sneakers in many types and designs
Every day, look for the latest footwear.
Try on sneakers with augmented reality.
Investigate specifics in depth
Download this app
Wayfair
This augmented reality internet shopping software provides a product database for your house. You can use AR to try out furniture, lamps, and other objects in the app. This money-saving software also offers some fantastic discounts.
Features of this app
a large product line
Personalized offers that save money
Various product categories, such as lighting and furnishings
Simple to use the navigation
Download this app
Myty AR
This augmented reality shopping provides an incredible approach to buy for your home design needs. You may use the camera to search for the greatest designs, furniture, and other things for any room. There is also an inspiration catalog to help you come up with unique ideas for decorating your house.
Features of this app
3D furniture designs
Various interior design examples
Investigate various brands
Make rooms with 3D objects.
Download this app
Augment
The AR tool enables you to provide your consumers with a 3D AR presentation of your items. If you operate a business, it is excellent business software for entrepreneurs that may assist you in increasing sales by providing clients with a more involved purchasing experience. ARCore-supported technology is critical in providing a highly realistic graphical experience of items.
Features of this app
3D augmented reality components
ARCore-supported
3D models with a variety of textures and colors
Capture locations in order to add 3D models to them.
Download this apps
Conclusion
AR provides consumers with a new, multidimensional approach to investigating and engaging with things before purchasing. This list only includes ten of the best augmented reality applications. There are many more, too, ranging from third-party applications that e-commerce firms may use to promote their products to branded experiences that provide an additional consumer touchpoint.
So, these are the finest augmented reality shopping applications for your consideration. You may select the app based on your preferred genre and have a wonderful buying experience. Because these applications were among the first to participate in the AR shopping experience, the experience you will have with them is still growing and has yet to reach its full potential. However, in terms of quality, features, and security, these applications are already outstanding. As a result, you may dig your heels into whatever software you like.