What is Bumble App?
Bumble is a dating app that gives women more authority. A male must first establish interest in a woman before he may contact her, offering a degree of protection that other services lack.
Bumble, which was created by one of Tinder's co-founders, combines many elements with that famous software, including the notion of swiping to demonstrate interest in another user.
Bumble is a good option if you are content to sit back and let the lady handle the interactions. And if you're a woman looking to reclaim your authority in the online dating world and reduce the number of unwelcome "lol u up?" incoming messages, Bumble is the place to be.
Many women appear to enjoy Bumble, but we wanted to discover if they regard it as a novelty that allows them to ignore other characteristics.
We're going through every feature of Bumble to determine if it's genuinely worth downloading. If you're ready, let's get started with our Bumble reviews.
Highlights of the Bumble App
Excellent privacy and safety features

Robust free version

Fun and inclusive interface

Video chat

Prevents unsolicited and unwanted texts from overwhelming women.
Profiles are brief and to the point, making it simple to sign up.
Alternative app alternatives include Bumble BFF and Bumble Bizz.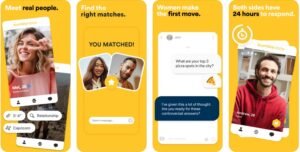 Source: Google images
Bumble Key features
Bumble offers a lot of cool features. Let's go through some of the primary features and how they're utilised.
Bumble Boost is a hybrid between a premium upgrade and a stand-alone function. A week of bee boost costs $10.99, however there are different payment methods available to extend your boost. When you purchase bumble boost, you will receive some of the benefits of a premium membership, such as backtracking, extended match time, unlimited swipes, one spotlight every week, and five super swipes per week.
The Beeline, which comes with the premium subscription, displays a list of people who have liked your profile. This allows you to zero down on profiles that you know will be a good fit if you like them.
Match extension allows you to contact a match for additional 24 hours before it expires and vanishes. This is available with both a Bumble Boost membership and a Bumble Premium subscription.
Backtrack allows you to go back under your last swipe. Bumble's Boost and Premium editions both include this feature.
This function displays your profile in other members' match feeds for a full 30 minutes. It's an excellent technique to attract a lot of attention, particularly during peak hours.
Super Swipes are comparable to Tinder's Super Likes. When you Super Swipe on a user, your profile is displayed immediately to them, and they are notified that you are interested in them. This function is only available with Bumble Boost and the Premium subscription.
Using sophisticated filters, you may narrow down your searches as much as you like. This feature is only available to Bumble Premium subscribers.
Premium members have access to this feature. Your likes are only shown to people who like you back when you are in this mode. Those who did not like your profile will not know that you liked theirs. In other words, it alleviates some of the humiliation associated with internet dating.
Travel mode is ideal for individuals who want to relocate in the near future. They allow you to pre-match with singles from all across the world.
Bumble App Reviews

Why should you install Bumble App?
Bumble is the dating app for empowered women and men who like to let women make the first move. Bumble has a lot to like: its entire business is based on making you feel good about using the app. You can chat with connections for free, and the interface calms down a potentially stressful scenario. Even if its photo-focused profiles have a more casual dating atmosphere, Bumble is an ideal alternative for women who are concerned about their safety and privacy—and men who don't mind women making the first move.
Bumble is our choice for dating apps for individuals searching for a long-term relationship, owing to its extensive profiles and user-friendly UI, but Bumble is a strong option, especially for those who prefer to play it safe in the dating jungle.
Frequently Asked Questions
Is Bumble LGBTQ Friendly?
Yes. Though the "women message first" function does not apply to gay or lesbian matches, the rest of the programme and its features are still quite beneficial for LGBTQ people. Our sole criticism is the gender identity questionnaire's lack of diversity.
Is Bumble Good for Long Term Romance?
Bumble is far better for long-term relationship than Tinder, but it may still be hit or miss. Though we have no doubt that you may find love on Bumble, it may take a little longer than on commitment-focused services such as eHarmony.
No! Because of the communication laws involving heterosexual pairings, this is a prevalent misperception. Bumble's goal is to make women feel comfortable when dating online. That being said, some guys are unlikely to be big lovers of the platform, which is OK.
What Happens if I Match with Someone, but Don't Message Them Within 24 Hours?
If you do not message a match within 24 hours, it is forfeited. If you don't believe you'll be able to answer soon enough, you may buy a boost, which will prolong the expiry period of your match by 24 hours.
Can I Have My Lifetime Subscription Refunded?
No, none of Bumble's memberships or services are refundable for any reason, according to their terms of service.
Download the Bumble App