Highlights of the Darkroom App
Content Import/Export

Content Sharing

File Management
Image Library
Pre-built Templates
Project Management
Real-Time Editing
Social Media Integration
Third-Party Integrations
Watermarking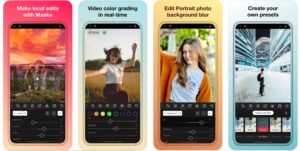 Source: Google images
What is Darkroom App?
Darkroom is a simple and quick picture editing tool. The curves' characteristics are excellent for changing colour tones. You have the ability to construct your own filters.
It is a photo editing package developed to assist businesses in capturing, processing, editing, retouching, printing, and selling images. It provides a variety of solutions such as Darkroom Booth, Core, Assembly, Hotfolder, and Event Gallery.
Darkroom Booth is part of the package, and it allows photographers to create personalised booths with video, music, light, and bell effects, start hashtag printing with a Kiosk, and share GIFs, films, and files on Facebook, Snapchat, Instagram, and Twitter. The Darkroom Hotfolder programme allows professionals to manage image folders and automate the printing and file sharing processes across live event galleries.
It also has an Assembly platform that assists customers in streamlining workflows for group photography, PSPA yearbooks, picture CDs, and other projects.
White-label picture galleries may be used by administrators to promote event-specific designs, watermark branding across photos, distribute password-protected galleries, and sell images to guests. Photographers may use camera settings within the programme to shoot photographs in low light and modify ISO or white balance.
Darkroom Key features
Connects Directly to Photo Library
One thing I've noticed about a lot of photo editors such as the ones listed above is most have light-table interfaces that require you to import photos to a separate photo collection that exists within the app.
What Darkroom does that's unique is let you connect to your entire photo library from the beginning so there's no import process? Upon launch, you just need to allow Darkroom access and then you're greeted with your photo library in a grid letting you swipe through photos to find a good shot.
Editing Your Images
Once you decide on an image, you'll have tools across the bottom for editing. You can crop to several standard aspect ratios, pick from 12 included filters, adjust sliders to fine-tune your image and — once you pay — swipe to adjust curves. A particularly great feature in Darkroom is the infinite history that lets you go back through your changes one by one to the beginning.
There are 12 basic filters included and you can create your own filters, but it's a little complicated. You'll need to pick one of the included filters, then switch to the sliders and make some adjustments. Once you do, you can go back to the Filters selection and a Create Filter button will appear. Here you'll be able to name your filter, and then adjust sliders to make it to your liking.
Adjusting Curves
To unlock Curves you'll need to pay $2.99 through an in-app purchase. Once unlocked you can adjust the curves for blacks, shadows, mid-tones, highlights and whites. You also can adjust for RGB or single out colours using buttons on the left for the reds, blues and greens.
The curves feature works great for getting just the right tones for each colour, and the interface takes a few swipes to get drastic changes, so you can really be precise about how your image will look.
The Filters
If you plan to use the same round of edits in the future, Darkroom makes it uber-simple to save the entire profile as a filter. The film-noir filters have been included by default. They offer a good starting point for beginners, but the ability to create your custom filters and apply them all at once to multiple images is a bonus. The fact that Darkroom is available across all Apple devices makes it easier for you to begin editing an image on one device and finish it on the other.
A Great Interface
What's great about Darkroom is how quickly you can navigate between screens. For example, from the fine-adjustments screen, a swipe down will hide the sliders, and another swipe down brings you back to the library. In a single screen, the entire photo and video editor is defined, with some essential tweaks to make it macOS Big Sur compatible. On the macOS platform where several editor features and interface complexities tend to make photo editor quite the handful, Darkroom takes a step back to simplify it all.
Also, once focused on an image, you can swipe left or right to browse images in your library, which is convenient especially when you're trying to choose one shot from many similar shots.
Darkroom App Reviews

Source: Google images
Why should you install the Darkroom App?
With direct access to your picture collection, a smart UI that saves time, and unique tools for altering your photographs, Darkroom does a lot of things right. I enjoy how you may get the software for free and how the makers hide the most wanted feature behind a fee. It allows you to check it out before paying a modest sum for the entire software.
Darkroom's attractive design and capabilities set it apart from many other photo editors and given that it's a free download, it's hard not to encourage you to try it out.
Frequently Asked Questions
Darkroom announced that it has moved to a subscription-based revenue model for new customers, with prices starting at $3.99 per month or $19.99 per year. A one-time purchase of $49.99 is also available. A membership grants access to all of the Darkroom's filters and tools, as well as any future enhancements that are introduced.
Darktable may be used to alter photographs in addition to organising them. Darktable is especially meant to work with RAW files (much like Lightroom), although it can also be used to edit JPG files.
Subscriptions may be obtained by clicking the black BW/DR icon at the bottom right corner of your screen. To update an existing subscription, click the same BW/DR button, then Manage Membership. This includes changing card details and cancelling your subscription.
We recommend that you install at least 4GB of physical RAM as well as 4 to 8GB of extra swap space. In theory, you could run darktable with less physical RAM while still having adequate swap space.
Download Darkroom App from:
Like our Darkroom app review? Check out more Mobile App Reviews or Submit your own Mobile App Reviews.