Main Highlights:
Intel stated on Friday that it would construct the "world's largest silicon fabrication facility" in the United States on a 1,000-acre site in New Albany, Ohio.
It can develop into the state of Ohio's Silicon Valley.
To lure Intel, Ohio must also modify its rules to grant job creation tax credits to significant developments such as Intel for 30 years rather than 15 years.
Intel announced on Friday that it would build the "world's largest silicon manufacturing facility" in the United States on a 1,000-acre plot in New Albany, Ohio. A few moments later, President Biden, Ohio Governor Mike DeWine, US Secretary of Commerce Gina Raimondo, Intel CEO Pat Gelsinger, and other executives and local officials suggested that the up to $100 billion projects could also be a panacea for a variety of other problems.— including global competitiveness, national security, the chip shortage, high car prices, racial and gender disparities in STEM employment, and even inflation itself.
It could become Ohio's Silicon Valley, as several have suggested. At least eight times during two live streams, the phrase "Silicon Heartland" was uttered. Without a doubt, the investment is significant for Intel, which has clawed its way back from the brink of irrelevance by fundamentally altering its approach to the industry:
Doubling down on manufacturing.

Building chips for competitors.

Relying on some competitors to help develop its chips.
Intel is breaking ground on a new manufacturing facility for the First Time in 40 years. Intel expanded its operations in Arizona, New Mexico, and Oregon by combining existing facilities. And, of course, it could be a significant event for Ohio as well. However, what about inflation? How much are automobiles? One hundred billion dollars in investment? Allow me to rewind for a moment.
What exactly is Intel promising in Ohio?
To Intel's credit, its statements on the subject have been relatively straightforward: It is a $20 billion initial investment in two fabs (fabrication plants; these facilities typically produce silicon wafers), with construction beginning in late 2022 and the facility expected to open in late 2025.
On the call, Gelsinger joked, "If there is a concrete truck in the state of Ohio that will not work for me next year, I want to know about it."
The remainder of Intel's promises is murkier, such as the possibility that the Ohio site will eventually house eight fabs rather than two. "At full buildout, the site's total investment could reach $100 billion over the next decade, making it one of the world's largest semiconductor manufacturing facilities," Intel stated in a press release. However, this is not a firm commitment — it is more wishful thinking if Intel receives federal subsidies.
Intel spokesperson William Moss acknowledged to The Verge that the company's plan for the next decade is to invest up to $100 billion. Still, that goal will be challenging to achieve without federal government support. However, the initial $20 billion investment is not contingent on federal subsidies.
Additionally, Intel has committed to spending $100 million over the next decade on education to help develop and attract a pipeline of skilled talent from within the region while promising approximately 3,000 Intel jobs, 7,000 construction jobs, and 140 existing Ohio businesses will do business with Intel as suppliers. Intel anticipates an average annual salary of $135,000 at its facilities.
How is any of this going to resolve today's chip shortage, automobile prices, and inflation?
It cannot be. While the chip shortage is a massive supply chain issue affecting the auto industry directly, leading chipmakers agree that it will ease in the second half of 2022 and that this plant will not begin operations until at least 2025. According to Moor Insights & Strategy analyst Pat Moorhead, once this fab is operational in 2025, it will not affect the current chip crisis.
Intel does not manufacture chips for automobiles, at least not yet. Intel had nothing to do with the automotive chip shortage. (While Intel acquired autonomous driving chipmaker Mobileye in 2017, the company's chips are manufactured by TSMC.)
None of this has deterred US Secretary of Commerce Gina Raimondo and Ohio Governor Mike DeWine from repeatedly bringing up automobiles and equating them to inflation. Raimondo, who noted that each electric vehicle requires 2,000 chips, stated that automobile prices account for a third of inflation because they lack sufficient chips. That is why Intel's announcement today is so exciting.
What exactly will the Ohio plant produce?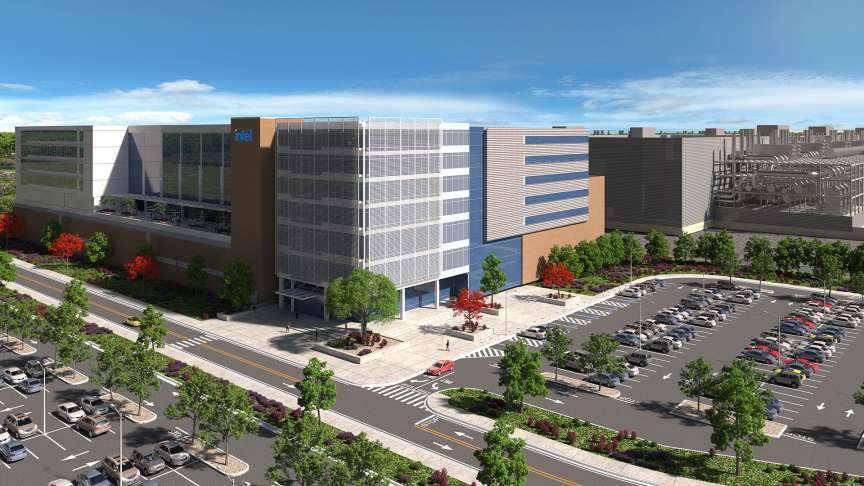 Although Intel has not provided specifications, Gelsinger indicated during his presentation that the business will create sophisticated processors at manufacturing nodes "2nm and below." According to an Intel representative, the Ohio factories are being developed for the 'Angstrom age,' using Intel's most sophisticated process technologies, including Intel 18A.
Is it truly the "world's largest silicon manufacturing location"?
Perhaps, but not for long. Samsung announced in August 2020 that it had begun manufacturing memory chips on the world's most extensive production line — Pyeongtaek Line 2, which is roughly the size of 16 soccer fields. However, Keyvan Esfarjani, Intel's production and supply chain leader, indicated that the company's Ohio facility might span 30 football fields, with clean rooms ranging up to four football fields in size.
However, Samsung's Pyeongtaek Line 2 facility is just one of several in the area, and Japan's Nikkei reports that a new, third Samsung fab will have clean rooms the size of 25 soccer fields compared to Intel's four. Additionally, soccer fields are significantly more extensive and on a larger scale than fields for football.
If the clear commitment is $20 billion for two different fabs, and Intel already has invested $20 billion in two new fabs in Arizona, what is the big deal?
This is a significant event! It is simply not a larger issue. As of today, the deal remains identical in size. However, the Biden administration and the state of Ohio genuinely want to be seen doing something significant for the economy — and Biden can use this to exert pressure on the House of Representatives to pass a critical piece of legislation.
Remember how Intel is requesting a federal subsidy to assist in expanding the Ohio fabs? There is one in the pipeline — In April, Biden asked for federal funding to alleviate the semiconductor shortage, and the Senate responded in June by passing a bill providing $52 billion for domestic semiconductor manufacturing in the United States.
However, it was never enacted by the House of Representatives. Despite bipartisan support for the so-called "CHIPS Act," it has been stalled in the House ever since, preventing the money from becoming available. Thus, Biden highlighted Intel and Ohio as examples of what is possible if we invest in domestic chipmaking while raising concerns about national security and global competitiveness if the bill is not passed.
Biden noted how much US chip manufacturing has declined, noting that the US was once ranked first in the world for research and development. However, guess what? They are now ranked ninth. Today, East Asia accounts for 75% of production. Taiwan manufactures 90% of the most advanced chips. Intel CEO Gelsinger stated during the Biden call that the CHIPS Act would enable this project to be larger and faster.
Is the national security concern justified?
Perhaps. Apart from one widely criticized Bloomberg report, the public has never heard evidence of Chinese chips being used to spy on the US, but that hasn't stopped the US from repeatedly cracking down on Chinese telecommunications vendors, particularly over unspecified national security concerns. Biden has expanded Trump-era bans on American investment in companies with ties to the Chinese military.
There are additional national security concerns: Moorhead stated that if China or North Korea attacked Taiwan or South Korea, the US would lose access to advanced semiconductors, which would be a problem. This transaction is primarily about diversifying the locations of cutting-edge manufacturing to safeguard US interests.
What about economic viability?
Even if the House approves $52 billion in funding for domestic semiconductor manufacturing and Intel invests the total $100 billion in Ohio — again, over a decade — they will still be dwarfed by chip giants TSMC and Samsung.
According to Nikkei, Samsung invests $25 billion annually in chipmaking, and TSMC has set a record $44 billion aside for manufacturing capacity in 2022 alone, up from $30 billion in 2021. At that rate, it appears improbable that Intel will catch up.
In terms of global competitiveness, there is hope that when Intel chooses to build new fabs in the United States, others will follow suit — and this appears to be happening, with Samsung promising to build a $17 billion advanced chip manufacturing facility in Taylor, Texas. Both TSMC and its suppliers are reportedly considering additional investments in Arizona.
However, Intel is not exclusively focused on the United States. It also intends to expand its manufacturing footprint in Europe, investing up to 80 billion euros ($90 billion US) over the next decade. In November, Margrethe Vestager, the EU's antitrust chief, warned that chipmakers might play governments "against each other" to obtain government subsidies. Intel is launching its European expansion in France, Germany, and Italy.
Is Ohio poised to become the next Silicon Valley?
I would argue that Silicon Valley is unique in that it is about much more than semiconductor manufacturing — it is about the massive accumulation of talent, investment, and investors, along with all the problems (such as astronomical housing prices!) that entails.
Intel's CEO appeared to have a slightly looser definition during his presentation: He stated that they established the Silicon Forest when they relocated to Oregon. And when they arrived in Arizona, they contributed to the establishment of the Silicon Desert. They traveled to Ireland and aided in the establishment of the Silicon Isle. They traveled to Israel and assisted in the establishment of the Silicon Oasis.
Apart from that, Time reports that New Albany, Ohio, is far more developed than the outside world realizes one of the wealthiest cities in the state. Intel is not the first major technology company to establish a presence. Data centers are operated by Google, Amazon, and Meta, located within the sprawling New Albany International Business Park.
By the way, Intel appears to have liked the idea of being associated with prosperous New Albany. Technically, the land beneath Intel's new facilities was part of Jersey Township until this year, when New Albany annexed that exact parcel just before the deal.
What assurances did Ohio make to Intel in return for this investment?
Intel declined to elaborate (other than to say that the package includes tax credits, exemptions, and infrastructure improvements), but Ohio Lieutenant Governor Jon Husted appears to have anticipated the question. During the presentation, he spoke spontaneously. He stated spontaneously during the presentation that for every six cents invested in the capital by Ohio, Intel will earn a dollar.
A quick calculation on a napkin: does that mean Ohio contributes $1.2 billion in addition to Intel's $20 billion? Intel declined to comment. However, Time reports that the local government will spend at least a billion dollars: "The state agreed to invest $1 billion in infrastructure improvements, including the widening of State Route 161, to benefit the factory and the surrounding community."
To entice Intel, Ohio also needed to amend its laws to provide job creation tax credits for 30 years rather than 15 years to significant developments such as Intel's. Husted told The Columbus Dispatch that we were out of the game until that happened.