What is JustWatch app?
JustWatch is a streaming platform that makes it simple to find where to watch movies and TV shows online in the United States, such as Netflix, Hulu, Disney Plus, Apple TV+, and Amazon Prime Video.JustWatch shows you where you can legally watch your favorite movies and TV shows. You're kept up to date on what's new on Netflix, Amazon Prime, Apple TV, and a variety of other streaming services. JustWatch's simple filter system allows you to see only the information that is relevant to you.
JustWatch users can also track their favorite shows and movies and receive notifications when a title becomes available on one of your services. Browse the most recently added TV shows and movies on your favorite providers, and don't forget to catch the latest full episode of Game of Thrones or Netflix's new Original Movie. We update the availability of TV show episodes, seasons, and full movies every day.
Main Highlights
Learn about what's new on your favorite streaming services and

get personalized recommendations.

Keep track of all the TV shows and movies you want to watch in one place, accessible from any device.

Choose your favorite services from the 100+ available.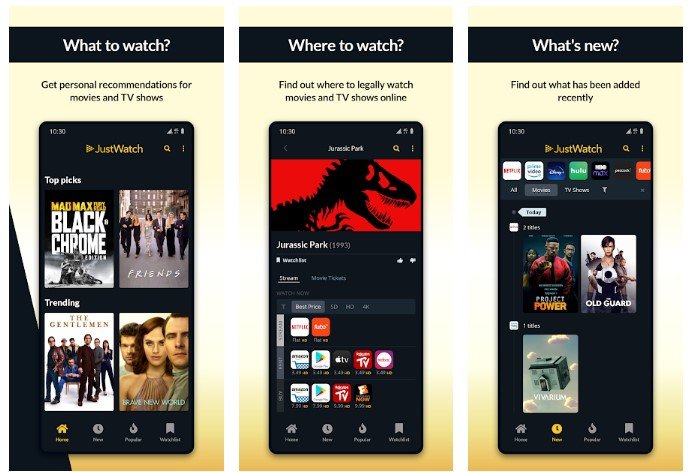 Features of JustWatch App
Learn where to watch movies and TV shows online through paid subscriptions, free streaming, ad-supported streaming, renting, and purchasing (as download).

Filters: select your favorite services from among the 100+ options and filter by movie genre or release year attributes.

Over 60,000 movies and TV shows are listed, including trailers, synopses, cast, ratings, and VOD offers.

Timeline: keep up with our daily list of new releases for movies and TV shows on Netflix, Hulu, and over 100 other services.

Find out where to watch the best movies and TV shows online.

Price Drops: Every day, get the best deals on renting and buying movies and TV shows online.

Watchlist: You can queue movies across all services using your smartphone as a remote.

Sign up for an account to sync your Watchlist across all of your devices.
Why choose JustWatch app?
JustWatch is your one-stop shop for all things streaming. JustWatch collects user profiles from millions of moviegoers to learn about their movie tastes. JustWatch uses this information to run highly effective trailer campaigns for film studios, distributors, and VOD services. They retarget users on platforms like YouTube, Facebook, and others, where people spend time discovering new content. Campaigns from Just watch outperform industry benchmarks by a factor of two.
JustWatch App Reviews
Frequently Asked Questions
How do I become a member of JustWatch Pro?
JustWatch Pro can be obtained in three ways. They are, however, all currently available in our mobile apps.
You can sign up from the app's homepage when you first launch it.
It's in your account settings, and you can get to it even if you aren't logged in.
When you open the filters panel and select a PRO filter, you will be prompted to subscribe.
What does it mean when a title has no streaming offers?
This means that none of the providers JustWatch works with are currently offering the title. JustWatch checks the provider pages for new content daily.
Why is a title displayed on JustWatch that is available on Kanopy but not in my area?
Kanopy collaborates with your local library to determine what content is available, and JustWatch does not have access to the specifics of each library. As a result, JustWatch displays all of Kanopy's features, but your local library may be unable to support them. The team is working on a more accurate way to display Kanopy in the future. Kanopy is currently only available in the United States due to the difficulty of accurately communicating it.
Why is a title available on YouTube but not JustWatch?
JustWatch can only list YouTube content that can be purchased or rented, is part of YouTube Premium, or is part of YouTube's official selection of free movies at the moment. Because JustWatch cannot verify the legality of titles displayed on individual YouTube channels, JustWatch does not support them. There's also the problem of not actively looking for these positions.
As a result, JustWatch will miss having a few things available on YouTube; however, JustWatch is working on a better way to display this in the future! Please be patient while JustWatch works on this.
How do I link my television to my JustWatch account?
You must first download our Android TV, Fire TV, or Apple TV app before you can connect your TV. When you're in the TV app, there's an 'Account' menu that will guide you through the rest of the setup.
How do I get rid of my account?
On the website, you must delete your account information by clicking the 'Delete my account permanently' text beneath your account information (the person icon).
JustWatch App Download
Like our JustWatch App Review? Check out more Mobile App Reviews or Submit your own Mobile App Reviews.