Main Highlights:
successful closure of a €3 million pre-seed investment round. 468 Capital led the new round, followed by Presight Capital and a group of angel investors.

The dream of owning property all around the world is no more a dream.

How to successfully find and invest.
London-based Lilo invests €3 million to provide a luxurious touch to global fractional home ownership. A leading European invest-and-experience platform for fractional home ownership. Based in London, the company is establishing a new asset class.
The idea of owning property all around the world is intriguing. Many of us have fantasized about owning a Barcelona flat, a London mansion, or a Berlin loft. London-based Lilo is creating a new invest-and-experience asset class by making global property shares interactive and collectible, allowing a target demographic of young professionals to join the elite club of individuals who own global real estate.
To keep things high-end, Lilo will provide its members with unique access to handpicked residences in some of Europe's most popular and attractive locations, such as Barcelona, London, Amsterdam, Stockholm, and Berlin. The platform will allow members to build a worldwide property portfolio without the existing mental and financial load.
A leading European invest-and-experience platform for fractional property ownership, created in April this year by Emily Chan and Christopher Lass, has announced the successful closure of a €3 million pre-seed investment round. 468 Capital led the new round, followed by Presight Capital and a group of angel investors.
The platform of the proptech firm is subscription-based. It enables members to live an enhanced nomadic lifestyle by acquiring shares in global real estate, mirroring the growing trend of workcations and the growing number of digital nomads. The team buys high-end residential homes in desired areas across the world, with ownership divided into up to eight fractions.
"The new generation of working professionals and creatives aims for a flexible lifestyle, but yet maintains vigilant about accumulating a varied range of assets," stated Fabian Hansen, General Partner at Presight Capital. Because of its stability, real estate is an essential component of every well-balanced portfolio. We adore Lilo because it blends the best of both worlds—we're happy to be a part of this adventure."
"Real estate has to be re-imagined to better suit our more varied style of life," said Emily Chan, co-founder of Lilo. We're introducing a new asset class to do just that: accumulating shares in our homes provides our members access to the world's most desirable locations, helped by our in-house sourcing and valuation expertise."
Obtaining this pre-seed round is a significant step forward for the startup's ambitions. It will be utilised to expand the team, which is ready to get started and acquire first properties.
The will to re-imagine real estate and build Europe's #1 invest-and-experience platform is what drives Emily and Chris, the co-founders of Lilo Collection.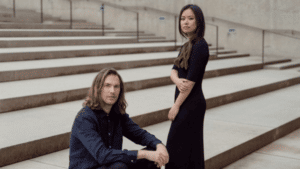 EMILY CHAN
Emily got substantial experience in asset-backed investments while working for Goldman Sachs and Apollo Global Management in London, where she underwrote and concluded several billion dollars in real estate deals.
Emily formerly worked on strategy planning for the United Nations Executive Office of the Secretary General in New York. She has first-class degrees in Law and Finance from the Universities of Cambridge and Oxford.
CHRISTOPHER LASS
Chris combines his deep knowledge of technology with his enthusiasm for software development to create an engaging, all-encompassing user experience.
Chris was most recently the Head of Development at a strategy consulting firm that ensured KYC/AML compliance for financial institutions including Deutsche Bank and Stripe. Prior to this, he co-founded his own consumer lifestyle brand.
Chris majored in computer science and attended Stanford University and the Technical University of Munich.
HOW DOES IT WORK?
Lilo makes it simple and appealing to invest in, experience, and acquire luxury property shares all around the world.
Purchase real estate. Enjoy effortless ownership. Collect property shares across the world.
1. INVEST AND OWN.
View their carefully chosen portfolio of quality property listings or tell them where you want to buy and own.
They will work with their real estate professionals to identify the ideal property for you. They take care of the rest once you've located your property of interest, so there's no legal bother or organisational worry.
2. ENJOY & EXPERIENCE.
Enjoy exclusive use of your property during scheduled visits all year: a one-eighth share provides you 45 days of access every year. Plan your visit using their app, then arrive and have fun.
They'll make sure you always arrive at a spotless residence, handling everything from home décor and upkeep to property management.
3. COLLECT & TRADE.
When you purchase Lilo property shares, you and up to seven other co-owners will share legal ownership of the property. You can purchase up to four of the eight shares available per property.
You will also receive the full value appreciation if you decide to sell your shares in the future.