Main Highlights:
Mobile usage accounted for over a third of total media time in 2021.
A large majority (72.3%) of mobile time was spent on smartphones.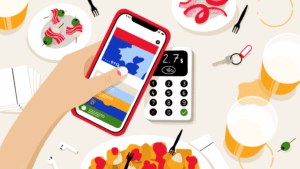 With the remarkable growth in smartphone usage, the number of mobile apps has expanded exponentially. People in the UAE are spending less time on computers and more time on cellphones. It is past time for marketers to rethink how they communicate with their stakeholders. If individuals are spending more time on their smartphones, we should reach out to them through these gadgets,' he says. According to him, this is a clear message to Middle Eastern branding gurus who wish to maintain or strengthen their brand value.
According to the survey, smartphone users in India spent an average of 4.8 hours per day in July-September (Q3) 2021 utilising various mobile applications, making Indians "among the most mobile-first consumers in the world."
The amount of time Indians spent on mobile applications had been slowly increasing prior to the epidemic, but it skyrocketed early last year when Covid-19 and lockdowns became our collective reality. This means that for the first time in 2020, Indian consumers spent more than four hours per day using mobile applications, totaling 651 billion hours for the year. That was a 40% increase from 2019, when Indians spent "just" 3.3 hours a day on apps.
In fact, daily app usage grew from under three hours in Q1 2019 to 4.6 hours in Q1 2021, an astounding 80 percent rise in two years.
In many respects, 2020 was a watershed year for humans. People all across the world were forced to stay at home, and the majority of them relied on technology to keep them engaged and connected. As a result, consumers spend more time per day than ever before on apps. Will individuals sustain their newfound mobile habits now that lockdown limitations have been lifted? According to recent research, people will continue to spend a significant amount of time on their applications.
Mobile gaming
In terms of downloads across Android and iOS, India is the world's leading market for mobile gaming. According to the research, Indian users installed 4.8 billion games in the first half of 2021, accounting for one in every five installed globally.
Ludo King, a free-to-play title developed by Indian company Gametion Technologies, was the most popular game during this time period in terms of downloads and active players.
The survey did remark, however, that the Ludo King, which was manufactured in India, is an exception. Indian-made games are hardly represented on the country's gaming rankings, accounting for only 7.6 percent of the top 1,000 titles. "The situation in other places is considerably different." "In China, the indigenous ratio is 60%," according to the research.
Mobile payments
According to the research, India is also setting the pace in mobile payments, owing partly to the Unified Payments Interface. In Q2 2021, the volume of UPI transactions nearly quadrupled in a year to about 8 billion. We revealed earlier this month that UPI transactions surpassed $100 billion in value for the first time in October.
According to the research, this expansion has provided a big potential for developers to create apps for shops. "According to our data, one of the market's leading products, Khata Book, has 14 million average smartphone monthly active users in India in Q2 2021," the company said.
Others that have profited from UPI include 'buy now, pay later' and credit applications like StashFin, Dhani, Kissht, and Slice Super Card, which provide users with access to credit.
Finance
The most downloaded cryptocurrency trading applications in Q2 2021 were CoinSwitch, WazirX, and Zebpay Bitcoin Wallet.
The number of hours spent on the top five investing and trading applications increased by 65% in 2020 compared to the previous year. Among banking applications, Upstox Pro, WazirX, and CoinSwitch showed the most download increase in Q2 2021.
Social networking and video streaming
YouTube remains the most popular video platform among Indians, although Telegram entered the top ten social and entertainment applications in the second half of 2021.
Shopping and food
In the first quarter of 2021, digital-only shopping applications had 23 average monthly sessions per user, compared to 10 for those combining an online and offline presence.
Apps for food delivery Zomato and Swiggy, as well as fast-food apps like McDonald's and KFC, led food and drink app downloads in Q1 2021.
Mobile usage statistics increased due to apps
In 2021, mobile users' time spent with media will account for over one-third (33.2%) of total time spent with media in the United States. Mobile usage will account for 35.0 percent of total media time by 2023. The typical US mobile user spends 4:23 per day in 2021, accounting for 54.8 percent of the 7:59 of digital media time per day.
In 2021, smartphones accounted for the vast majority (72.3 percent) of mobile time. This 3:10 increase is just 4.6 percent year on year (YoY), but it follows 2020's quick 17.7 percent increase, which was the highest rate for smartphone time spent growth since 2014.
Post Covid Effects
Despite the end of lockdowns, consumers continue to crave mobile content.
According to new data.ai study, UK app users now spend more than 4 hours each day using apps. That is an increase of 20% over the time people spend using applications in 2019.
On Indonesia and Singapore, mobile users spend about 6 hours in apps, which is 35% more than in 2019.
The worldwide app charts are almost unchanged, with Instagram, Twitter, TikTok, Facebook, and WhatsApp at the top. Snapchat climbed to sixth place in the first quarter of 2022.
Streaming services such as HBO Max and Netflix are extremely popular in the United States. HBO Max has around 47 million members.
COVID apps remain popular in Germany and France, although Indian customers are more interested in installing payment apps.
The most popular games were Free Fire and Subway Surfers.
Wordle was the most downloaded game in the United Kingdom, the United States, and Australia.
According to data.ai's breakout chart, Locket Widget is the most popular picture app in the United Kingdom, the United States, and France. The breakthrough charts were dominated by utility applications.