Main Highlights:
Twitter has been working on a Spaces Recordings feature that will allow presenters to broadcast tweets accompanied by audio recordings from prior Spaces.
Like a live Space, users listening to a recorded Space may see who is speaking and in the room.
Spaces have established itself as a Twitter mainstay, taking up the entirety of the mobile app's center tab. However, the emergence of the live audio feature has not been without setbacks.
Twitter has been developing Spaces Recordings, a feature that would enable hosts to broadcast tweets accompanied with audio recordings from previous Spaces. When hosts share recordings, they can see how many listeners participated live and replayed the tape afterward.
According to a Twitter representative, the long-awaited feature will stay in closed testing for a bit longer, but the testing group has been increased several times since its debut. Twitter does want to expand the reach of this function in the future.
When a Space is being recorded, people in the live Space will notice a "Rec" button with a red dot next to it. If a host shares the tape later, they can modify the start time so that future listeners are not subjected to minutes of dead air if the Space does not begin immediately. Like a live Space, users may see who is speaking and who was in the room when listening to a recorded Space.
These capabilities benefit listeners since they enable them to engage asynchronously with content from their favorite broadcasters. However, for hosts, this repeat feature simplifies building an audience. In November, Clubhouse introduced a similar tool called Replay, allowing users to download the audio for editing and sharing as a podcast. Since June, Twitter has allowed users to download the latest 30 days' worth of Spaces audio files.
Spaces have become a Twitter fixture, taking up the entire center tab on the mobile app. However, the live audio feature's rise has not been without obstacles. Recently, users of Twitter Spaces have reported being fed damaging information, including Spaces with racist titles that stayed on their feeds despite being written. Other live audio platforms, such as Clubhouse, have also encountered difficulties censoring malicious content. Twitter has not yet specified whether or not its Spaces moderation would expand beyond its present reporting options.
According to a Twitter spokeswoman, the company is investigating more proactive detection and is studying and developing new moderation alternatives. Spaces is an iterative product, and as more people use it, we'll continue to learn, listen carefully, and improve depending on user input.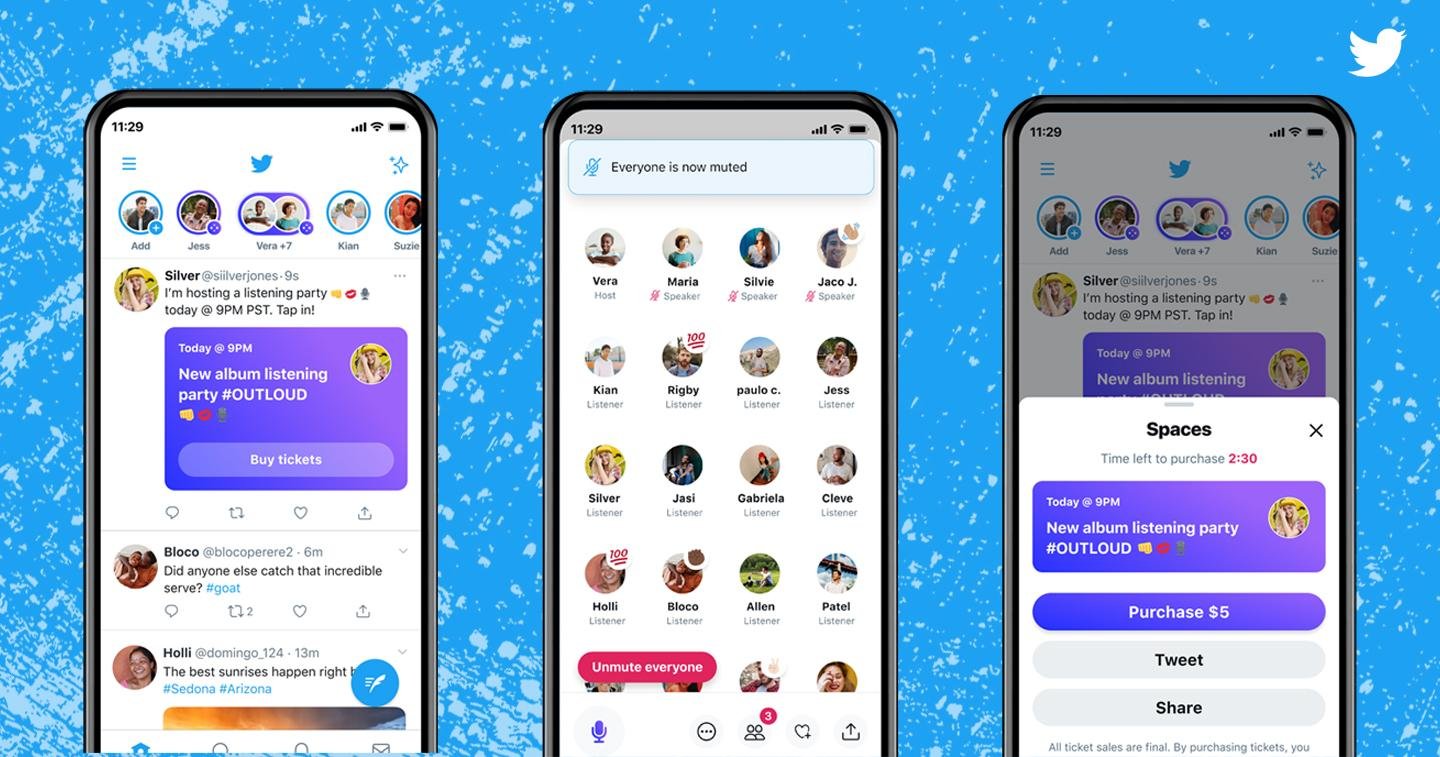 Frequently Asked Questions about Twitter Spaces:
How can I become a member of Spaces?
Spaces are open to the public and can be joined in one of three ways. Each Space includes a public URL that can be included in a Tweet or shared through Direct Message by the presenter or listener. Additionally, purple-hued Live Spaces featuring a speaker or presenter you follow will appear at the top of your timeline.
How to Become a Space Host?
To begin, long-press the compose button on your Home timeline and then click the cluster of dots icon. When you create your Space, your mic will be turned off; tap Start your Space when you're ready to begin speaking.
What is the procedure for adding a Co-Host?
As a Host, you can designate up to two co-hosts in addition to ten speakers to assist in moderating the conversation within your Space. Invite any existing participant or someone not currently a member of your Space. To do so, tap the Manage speakers icon, then Invite co-hosts. This will allow you to search for and pick the accounts with which you'd want to co-host your Space, as well as send them an invitation to let them know.
Scheduling a Space in advance allows you to promote your future conversation for a more extended period. Pick the cluster of dots icon by long-pressing the compose button on your Home timeline to plan a Space. Give your Space a name, select up to three pertinent topics, and then touch the Calendar icon to schedule your Space.
You can arrange a single Space up to fourteen days in advance, and in the meantime, you can still create impromptu Spaces. To edit the name, date, or time of your forthcoming Space, hit Edit. Once a planned Space is live, only the Space's name can be changed.