Overview of Wave App?
Wave app is a practical solution for the people of Africa. This mobile money app is specifically designed for Africans who find it difficult to obtain capital for their small businesses or freelancers. With this, you can save money, or transfer money at a low rate of 1%. It is designed to help build a stronger financial structure in Africa.
Drew Durbin (CEO) and Lincoln Quirk, two college friends, designed the app (Head of products). Its vision and mission is to help Africa develop digital finance. They are also the owners of Sendwave, Africa's leading digital payment processing company. It allows you to deposit and withdraw money for free. This financial network provides bill payment as a free service. Not only that, but you can also get free airtime.
Pros of wave app :
It charges users a 1% fee for sending money 

Since it  is a mobile money app it is convenient for users to carry it anywhere

Gives the flexibility of buying airtime for all the networks and that too, for free.
Cons of wave app:
Does not provide the option to attach external bank cards like the visa and mastercards

Not yet operational all over Africa.
Features of the Wave App
People are becoming engulfed in the world of

digital finance

. Because it is simple, convenient, and safe, it is gaining popularity in the market. As a result, they must carry a certain percentage of ees for it, of which only charges 1%, making it extremely convenient for users.

The app needs access to your storage /media/photos/files/, camera, phone, location, and contacts. It can automatically connect to Bluetooth devices, has full network access, and prevents the device from sleeping.

It is addressing the issue of people who do not have access to the banking system by

leveraging technology

to build a  better financial future and extremely affordable financial network in Africa. There are no account fees, and there is instant availability and acceptance everywhere!
Why choose Wave App?
Africans benefit the most from the app. Despite having limited access to only a few countries on the continent, it is rapidly expanding. It is solely intended to make Africa a cashless continent and to assist people in managing their finances. Its features include the ability to transfer money, pay bills, and purchase airtime at a low cost. It is a convenient way to keep track of your bills. 
Many users have shared their thoughts on how useful the app is for them. Some users have also expressed their thoughts on the addition of digital currency as a form of payment, as well as their thoughts on the addition of a credit buying policy. If the product receives positive feedback from users, we have no reservations. Apart from the fact that it is only available in a few countries.  It is a great way to kickstart the world of digital financing.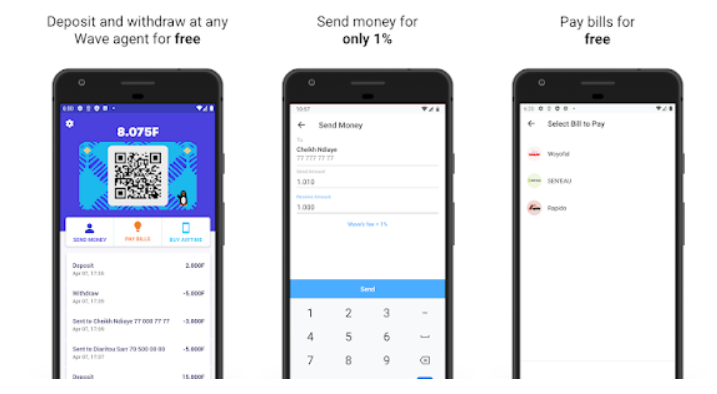 Frequently Asked Questions 
iOS and  android platforms 
Yes, The app is free to use. 
 Is the payment secured for in-app purchases?

 
Yes, the payment is secure for in-app purchases.
Wave App Review: 
Wave App Download:
Like our Wave app review? Check out more Mobile App Reviews or Submit your own Mobile App Reviews.