What is Webnovel App?
Webnovel is an international online reading platform devoted to all genres of fantastic literature and comic books. It publishes serialized content daily, emphasizing microtransactions and in-game purchases, and is setting new standards for the online publishing industry.
Additionally, Webnovel is an excellent platform for authors to self-publish their works. Webnovel has captured authors' imaginations worldwide and has risen to prominence as the leading author monetization app.
Main Highlights
The Webnovel offers an unmatched and immersive environment for reading comic books and novels.

With Webnovel, you can discover your voice and spread your message globally.

Begin your reading or writing journey and join a thriving, fun-loving community.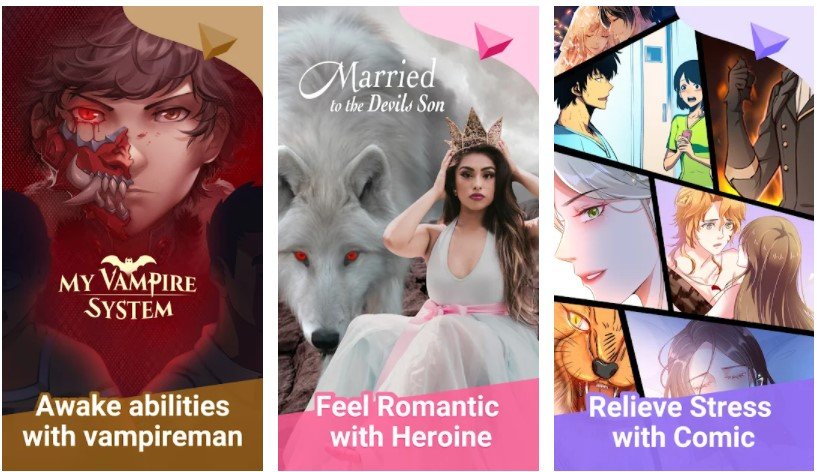 Features of Webnovel App
Discover complete novels like The Supreme Magus, fantastic translated works like Library of Heaven's Path, and many comic adaptations.

You can read excerpts from your favorite Webnovels, including The King's Avatar, Release that witch, and Battle Frenzy.

Join the millions of readers who eagerly await the daily updates to the Webnovel.

The Webnovel offers an unmatched and immersive environment for reading comic books and novels.

Webnovel is a community of over a million readers and authors united by their passion for reading and writing.

Whether you prefer to read a translated web novel or an original one, a romance novel or a fantasy novel, readers and authors connect over a shared love of reading.
Why choose Webnovel App?
Aspire to be an author, just as millions before you have. Webnovel is an excellent place to start, as it enables you to share your stories with the rest of the world. "A journey of a thousand miles begins with a single step," the proverb states. By completing our biweekly writing prompt contest entry form and submitting it through our matchmaking system, you can expose your novel to millions of readers who share a passion for the genre in which it is published. 
Utilize your uniqueness by establishing a voice and communicating with the rest of the world. Readers and authors, regardless of genre, are united by their shared love of reading. It makes no difference whether you prefer to read a translated or an original web novel. For a small fee, the web novel can now be purchased and downloaded. By beginning your reading or writing journey today, you can join a thriving community of book lovers and writers.
Webnovel App Reviews
Frequently Asked Questions
Why is it that my Coins are rapidly depleting despite my inactivity?
Coins are Webnovel's official e-currency and are available in three flavors. These are purchased Coins that will never expire.
Bonus Coins (1st type). These Bonus Coins are included in every purchase of Coins as a bonus. They have a thirty-day shelf life.
Bonus Coins (2nd type). Coin Bonuses are accumulated by completing various missions and events (e.g., Top-up, Membership purchase).
What Is the Best Way to Read in the Dark?
For Android/iOS device users:
Bibliotheca -> Reading Page -> Squeeze the page's center -> Tap the crescent, the second icon on the left, in the resulting bottom menu.
For PC/Mobile Site users:
Reading Page-> By clicking the second button on the right menu, select the Dark background option in Display Options.
Why was I not rewarded with Coins as a result of my purchase?
Coins are typically credited to your account immediately upon order completion. If you do not receive your Coins within one hour of purchase, please send your User ID, User Name, Date of Payment, GooglePlay/AppStore/PayPal invoice to service@webnovel.com, and the Team will investigate. The Team will notify you via email as soon as the investigation is complete.
Why wasn't I rewarded for referring friends with Bonus Coins?
To begin, go to Inbox->Notifications and review your notifications. Click claim in the notice. Please act quickly, as the information will expire after 30 days, effectively disqualifying you from claiming the rewards.
If you have not received your reward, your friend may not have logged in using a new device or ID. For the system to determine whether or not your invitation was accepted, both a unique ID and a new device are required.
If you made no errors during the process, please email service@webnovel.com your User ID and User Name, as well as those of your friend. The Team will immediately address it.
When I attempt to log in, I receive an 'Account Does Not Exist message.
This notice is typically displayed as a result of attempting to log in using an incorrect method. For example, you may have registered with an email address but logged in with a Google account, or vice versa. Kindly verify your process of login. Alternatively, you can use another method of authentication, such as email.
What is preventing me from obtaining the email verification code?
Please check your spam folder for this message. If nothing appears, please email service@webnovel.com with your User ID and Email address used to log in. The Team will immediately take care of it.
How am I able to read locked chapters?
While most chapters are unlocked, authors and translators have worked extremely hard to create the content for you. We will restrict access to specific sections of the works to assist translators and authors better. By purchasing Coins or watching advertisements, you can contribute to your favorite projects (different positions have different unlocking mechanisms).
Webnovel App Download
Like our Webnovel App Review? Check out more Mobile App Reviews or Submit your own Mobile App Reviews.