Backpackers are back in action as the COVID influence has declined significantly, and the necessity for travel mobile app development is now greater than ever! Needless to say, whether it's discovering lodgings or arranging a river rafting adventure, looking for a location to feast on local food or acquire antiquities, or other similar travel demands, an app is a travel enthusiast's best friend. Here's how to make money with a market-winning travel agency app!
In 2018, global digital travel sales climbed by 10.4% to $694.41 billion. People enjoy traveling. And, in this digital age, the next travel trend is…. mobile! According to a recent Travel Agent Central research, "almost two-thirds of passengers rely on mobile applications throughout a trip."
Travel app development is transforming the tourism industry all around the world.
In this post, we will discuss travel mobile app development and what features are essential in a travel app. Hold on tight!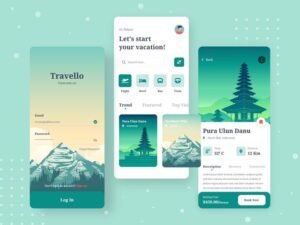 Types of travel mobile applications that can be created
Today, many applications assist individuals in planning their travel, transfers, lodging, entertainment, and everything else they may require while on the road. As a result, all travel applications may be classified into various logical groups. Let's look at the many travel mobile applications available on the market, as well as the important companies in each category.
App for trip planning
Flight reservation software
App for arranging lodging
Apps for travel guides
App for navigation
What are the most important characteristics of a travel mobile app?
Now that you've learned about the many types of travel apps, let's look at the essential traveling app characteristics needed to create a mobile app for the sector.
Almost every app provides a sign-up option. To use the app, users must first create an account and provide personal information. Most consumers dislike long sign-up procedures, therefore allowing them to join the app instantly by phone, email, Facebook, or Google accounts.
The "search" function is the heart of every travel mobile app. Whether a user is looking for airline tickets, hotel accommodations, or city excursions, the search tool must be simple and straightforward to use for everyone. Make the search button visible and easy to find on the screen.
Travel applications have already evolved into a sort of bazaar for modern travelers. Integrate a booking system into your app so that users may book hotel rooms, tickets, excursions, transfers, and entertainment. To improve user experience, provide handy filtering and sorting options in your booking system, as well as smart reminders, transparent pricing comparison, and straightforward navigation.
Geolocation and navigation
GPS-based location service is an essential feature for your app. Travelers must be aware of their present position in order to choose the best route to their next destination or to know what restaurants, attractions, cafés, hotels, and museums are nearby. Allow your users to access the maps offline if they do not have an internet connection.
Whether it's hotel rooms, hostels, apartments, attractions, excursions, or guides, tourists must read the description and learn more about the thing they're looking for. Create an item description feature, for example, if the app offers room listing, to allow owners or hotel management to explain their property in depth. Photos, videos, reviews, ratings, and 3D tours are all excellent additions to the description.
Payment method within the app
Integrating a secure payment option within the app simplifies the booking process for consumers and increases their loyalty to the firm. Consider introducing payment methods like net banking, e-wallets, debit/credit cards, PayPal, WeChat Pay, Apple Pay, and Google Pay to allow consumers from all over the world to pay easily.
The currency converter is an add-on to the payment system. When a user has to pay for a hotel stay, for example, they may rapidly convert the amount into a handy currency. Furthermore, while travelling overseas, customers typically need to convert money, therefore they may use your app to check the current currency conversion rate.
Another essential feature for a travel app is chat. It allows customers to communicate with property owners or hotel personnel directly in the app and inquire about specifics.
Integrating a built-in translator into your app is an excellent method to assist your users in communicating with locals throughout their journeys. Text scanning technology may also be used for visual translation.
Add a weather prediction option to your app to assist your users to plan their perfect vacation by informing them about temperature, humidity, weather changes, and predicted precipitation.
When visitors arrive in a new location, they will require transportation to travel to their hotel from the airport or to explore the city. This feature may be added to your app to give passengers up-to-date information on public transit, taxis, and rail tickets.
Online and Offline Access
Getting a network or discovering wi-fi is not always available when traveling abroad. Creating a travel app with an offline mode allows your customers to have a flexible app experience even when the connection is poor or unavailable. It will also help them save money on roaming.
Conclusion
The travel and hospitality industry is one of the world's most dynamic and largest. It is brimming with possibilities and possibilities. When you combine this with the growing popularity of mobile devices and applications, you have a massive commercial opportunity for travel app development.
As numerous examples of successful travel apps show, if implemented correctly, this opportunity can be turned into a profitable business. Travel apps have been demonstrated to be far more effective than mobile travel websites, thus building mobile travel apps is a sound business decision. All that is required is the inclusion of appropriate features such as geolocation, map integration, trip planning, booking, recommendations, and emergency services.