Travelling is expensive, time-consuming and often frustrating. But that doesn't mean we can't make it easier. Travelling might be a pain but with some planning and the right tools, it is much more manageable. Whether you are visiting friends and family for a few days or travelling for weeks, using the right apps to plan your trip will make your trip so much more enjoyable.
In this article, we list 10 of the most useful travel apps you should use before you go on your next vacation or when you plan on travelling soon. Many apps can help you, whether it's finding a cheap hotel or organising activities while you're away from home. Some apps focus specifically on travellers with reviews from other like-minded travellers as well as local information about where they are located.
Google Maps is the best travel app for finding your way around a new city or exploring a new region. The app includes a detailed map of the city or region you are in, letting you know where the important places are such as museums, parks, and tourist attractions. You can also find addresses and search for businesses.
The best part is that the app integrates with Google Local Search, allowing you to search for businesses and get directions from the place you are to the place you are looking for. And when you want to go somewhere else, Google Maps can help you find out how to get there as well.
Airbnb is one of the most popular sites for finding accommodation on your travels. Whether you're looking for a place to stay during a business trip or planning a trip with friends, Airbnb provides a ton of options in your destination city. You can browse listings or create your listing so that other travellers can find you and book your place. You can also make money by renting out your room while you're away.
TripAdvisor is one of the largest travel app resources out there. You can find reviews, photos, and videos of hotels, restaurants, attractions, and activities in different locations. You can also read reviews and post your reviews to let other travellers know what you think of a place.
The TripAdvisor app will show you top-rated places and give you options for booking accommodations and getting tickets for activities and events. You can also use it to scroll through travel guides and find out where the local landmarks are.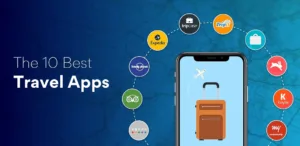 Wikitravel
Wikitravel is an extensive travel app that lets you look up information about almost any city or country in the world. You can look up basic information like the city's name, population, and a map of the city, but you can also find information about the best things to do and see in the city.
Wikitravel also has forums where you can find recommendations from other travellers, which is great for making your trip more authentic.
Skiing
If you are travelling to a region that is known for its skiing, the ski app is a must-have. The ski app will give you the latest information on the weather, snow conditions, and all the ski resorts in your region. You can look up where the best powder is, how long the slopes will be open, and what the costs are at each ski resort.
You can also find out when the most prestigious ski resorts are hosting events like skiing championships and trade shows to see if you can get in for free.
Etsy Traveller
Etsy Traveller is one of the best travel apps for finding unique and authentic experiences while you are travelling. You can find events, get recommendations for where to go and what to see, and find authentic travel experiences that are unique to that place. You can also find out what to expect from the culture, customs, and people of a new place by using Etsy Traveller.
Hotelopia
Hotelopia is a great travel app for finding the best deals on hotels. The app pulls from various booking sites and aggregates prices so you can find the best deals on hotels. You can filter hotels by price, star rating, or location to find the best deals on accommodations. You can also read reviews and post your reviews to let other travellers know what you think of a place.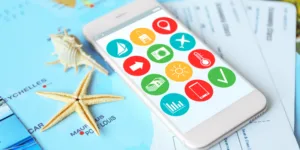 Native tourist apps
These travel apps are created by local tourism boards, giving you the best information on what to see and do during your trip. The best travel apps for tourist boards are TripHedge and Foursquare, which let you look up information about the popular attractions in your cities.
Bundled travel services
With so many different travel apps, it can be overwhelming to figure out which ones you need to use. With these bundled travel apps, you get access to an entire suite of travel apps at once. HotelTonight lets you find affordable accommodations and World Nomads lets you explore new cultures while staying in one place.
Don't travel without it
Before you go on your trip, you should make sure that you have the right travel insurance. It is important to have travel insurance because you never know when an emergency might occur. Most travel insurance providers will provide you with a free emergency travel insurance card or emergency contact information.
You should also make sure to keep track of your travel itinerary. Many travel apps allow you to create a trip itinerary, which can help you to keep track of the important details of your itinerary.
Summary
Travel apps are a great way to make your travels easier, but you need to choose the right ones. These ten travel apps will make your trip more enjoyable and help you to get around when you are visiting new places.